Jessica Ennis backed to continue in heptathlon by coach
Last updated on .From the section Athletics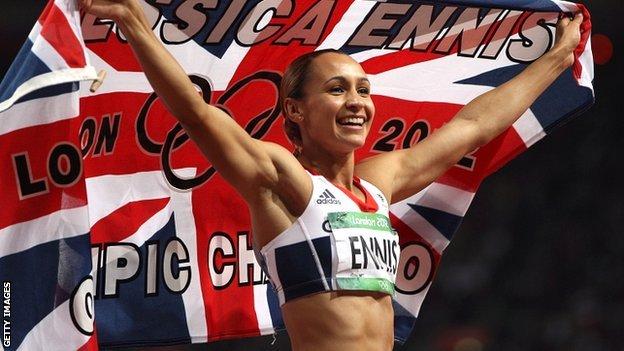 Jessica Ennis's coach thinks she will continue her career in the heptathlon.
"I sat down with her before she went away and we had a discussion about the future," her coach, Toni Minichiello, told BBC Radio Sheffield.
"I see no reason why she can't carry on with the heptathlon until Rio 2016 because she's not had many injuries."
He added: "She's got a good team around her and it's important we keep that team together. I think she'll definitely be in the heptathlon for the next four years."
Ennis produced one of the performances of the Games to take the Olympic title with 6,955 points, over 300 more than her nearest rival.
On her way to gold, the Sheffield athlete recorded a personal best of 12.54 seconds in the hurdles, the quickest time ever run by a heptathlete.
She then had the option of running in the event proper once her heptathlon commitments were over but elected not to compete.
Minichiello believes there are still a number of goals for Ennis to achieve, among them winning World Championship gold again, having finished second in Daegu last year, and topping 7,000 points for the heptathlon.
"We have to find different targets but motivation comes from within," he continued. "I think that 7,000 points is something she'll want and she's never won a Commonwealth Games. Plus there's the World Championships in Moscow next year.
"A number of years back, I was at a training camp with triple jumper Jonathan Edwards. I think he was at the point where he'd won all four major titles, he had the world record and was thinking: 'What do I do now?' I don't think Jess is at that stage."