Javelin star Goldie Sayers gets positive injury update
Last updated on .From the section Athletics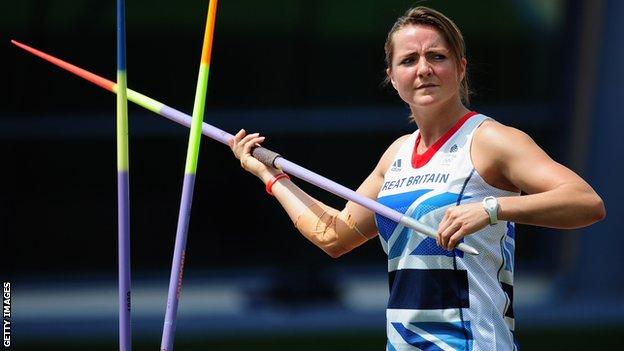 British javelin record-holder Goldie Sayers is set to resume full training in the New Year after a positive prognosis following elbow surgery.
The 30-year-old failed to qualify for the Olympics final in London after tearing a ligament in her elbow.
She saw her surgeon again on Tuesday and afterwards tweeted: "Elbow is healing as it should. My brace is off.
"I now feel like I can draw a line under this Olympic cycle and start looking at the next."
Sayers broke the British record with a throw of 66.17 metres at the London Grand Prix meeting in July.
However, she suffered the injury as she made her fourth throw and it effectively ended her chances of an Olympic medal.
She still attempted to qualify for the Games final but went out after three no throws - and then had to watch a competition in which she would have won a silver medal had she been fit to compete and able to repeat her Grand Prix throw.
Sayers intends to compete at Rio de Janeiro in 2016, but having had various injury problems during her career, she describes it as a "tentative plan" and is taking nothing for granted.
"The first question you ask yourself is 'do you still have the desire to do this?' and I do," she told BBC Radio Cambridgeshire.
"The second thing is if I want to invest in the next four years, then taking the next couple of months very easy is incredibly important at this stage of my career."
"It is a lot of hard work and when you come out of an Olympic environment and you finish a season, you realise how much you were focused on that.
"It's been really nice just to spend time with friends, and do what I want when I want, drink what I want, eat what I want.
"We don't get that opportunity really as an athlete. You could do it, but you'd be giving yourself a hard time, so it's been really nice being able to relax a bit."