Paula Radcliffe lottery funding withdrawn by UK Athletics
Last updated on .From the section Athletics101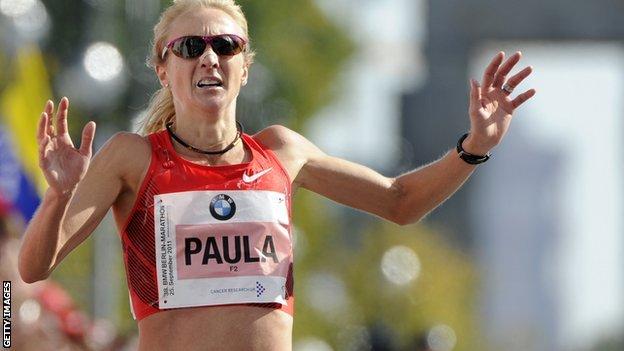 Paula Radcliffe lost her National Lottery funding because she is not seen as a "genuine medal contender" for Rio 2016, says UK Athletics (UKA).
The marathon world record holder, 38, missed the London Olympics with a foot injury and has raced only one marathon since 2009, in Berlin last year.
"I talked with Paula over the weekend and she understood it," UKA chief Neil Black told BBC Radio 5 live.
Radcliffe tweeted: "Retirement is definitely not in any plans."
The 2005 marathon world champion added: "I'm not doing all this cross training and getting this foot healthy and strong for nothing.
"Just to clarify I am very grateful for the support lottery funding gives us athletes and I fully expected to see it withdrawn."
Performance director Black, who after London 2012, continued: "It is about medals for the future. It was what she expected. She dealt with it really well.
"She will carry on training and competing and I don't think too many things will change.
"The focus is the future. We have the World Championships in Moscow next year, then we look to 2016 and then to 2020. It is about medals for the future."
Yamile Aldama, who finished fifth in the triple jump in London, will be 44 by the time of the Rio Olympics in 2016, but has retained her funding.
"We don't penalise people because of age," added Black.
"Yamile has recently been a world indoor champion and has a performance level that suggests she will have success in the future. It is also about Moscow next year and we feel comfortable in our support of Yamile."
Several other senior athletes have also had their funding withdrawn, including Radcliffe's fellow marathon runner Mara Yamauchi, veteran sprinters Marlon Devonish and Mark Lewis-Francis and European 400m hurdles champion, Welshman Rhys Williams.
Another Welsh athlete, sprinter Christian Malcolm, has seen his funding reduced to support his efforts as a relay competitor.
European 800m silver medallist Michael Rimmer, Commonwealth 1500m bronze medallist Steph Twell, former world 400m silver medallist Nicola Sanders and 800m runner Marilyn Okoro will also lose their funding.
Twell, 23, said losing the funding was a "bitter blow".
"I didn't expect it," she told BBC Radio 5 live. "At 23, I feel I have a lot more to give to the sport.
"It's a short-sighted view from UKA. I suffered a significant amount of misfortune and luck which ruled me out of 2011. I didn't make the Olympic Games but I was close.
"I delivered for them [UKA] on so many occasions, I find it hard to swallow."
Those who haven been promoted to 'podium' [top-tier] funding include, Olympic high jump bronze medallist Robbie Grabarz, Paralympic 100m champion Jonnie Peacock, world junior 100m champion Adam Gemili and Josie Pearson, who won discus gold at the Paralympics.
Podium funding provides the highest level of lottery support, ranging from £13,000 per year to £26,000 per year.