Scots' new athletics coach targets three 2014 medals in Glasgow
Last updated on .From the section Athletics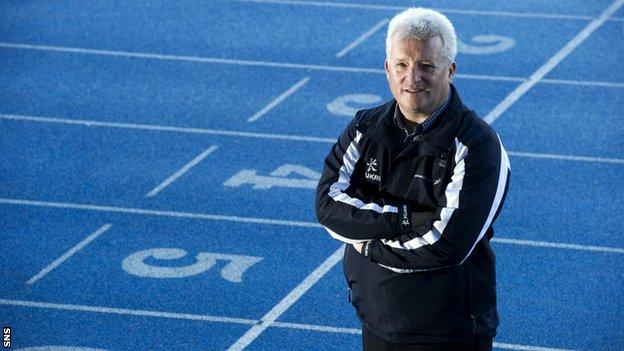 Scottish athletics' new director of coaching, Stephen Maguire, says his aim is to have the country producing world-class performers again.
He told BBC Scotland it "isn't good enough" that no Scottish male athletes made the track and field team for this summer's Olympics.
And he is targetting at least three track and field medals at the Glasgow 2014 Commonwealth Games.
Scots won only two athletics medals at each of the last two Games.
"I think over the past few games Scotland has had two medals, so we're hoping for more than two medals," Maguire said, but refused to be drawn on how many he hoped the Scots would win.
"I think that's a question you'll need to ask me in a wee while when we see where we're at, I think we can get more than two, how many more than two, I'm not sure."
Scotland won two medals at the Dehli games in 2010 and in Melbourne four years earlier.
"If you look at the age profile, if you look at the athletes we have, I think more than two is a nice way to describe it at the minute.
Maguire, who has in the past coached Olympic Silver medallist Tyson Gay, believes the feel good factor generated by the London Olympics can help Scotland produce better athletes.
"If you're a youngster training in Edinburgh, Glasgow or Aberdeen after the Olympics you want to be a Usain Bolt, you want to be a Mo Farrah, it's up to us to make sure those children's dreams can become reality.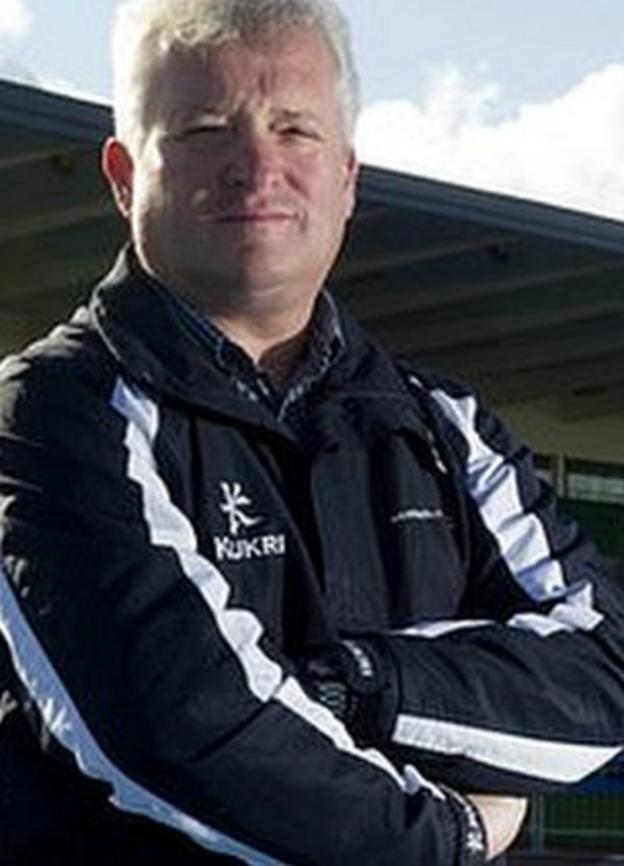 "When I was growing up Scotland was a very powerful athletics nation and I think the potential is there for Scotland to become a very powerful athletics nation again.
The Northern Irishman has also been recruited to reinvigorate performance structures around the county.
"Getting away from the the Commonwealth games, that's probably what my remit is to develop a performance structure, to develop world-class athletes and more world-class athletes.
"We need to delve a little bit deeper, to see where that talent pool has gone to," added the 49-year-old.
"We want to put world-class systems in place for the athletes and the coaches to develop, that's the longer-term thing, we won't change that overnight.
His main challenge may lie in developing male athletes, Scotland was without a representative at the London Olympics.
"That's a lot of work I need to do, to figure out that transition from very good junior to senior athletes, because I imagine there are athletes there who should have competed at the Olympics.
Maguire, who has been working in Florida, believes there are Scottish athletes capable of at that level.
"We need to look at someone like Mark Dry, the hammer thrower, he just failed to qualify for the Olympics. In two more years of hard work, he's very much someone who's going to come in to the public view of a world-class athlete.
With just under two years to go until the Commonwealth games begin in Glasgow, Maguire doesn't have long to work with Scottish athletes, that however doesn't bother him.
"For me, it's absolutely exciting, very, very exciting.
"And for an athlete to have that exposure in front of their own crowd and 50,000 people at Hampden park, it must be amazing opportunity for people," Maguire mused.
"My aspiration is that we benchmark ourselves against the best in the world.
"I've been based in the States, people there want to get medals, it's all about medals, it's all about podiums and that's the mindset we need to get people into.