Decathlete Martin Brockman set for Michigan scholarship
Last updated on .From the section Athletics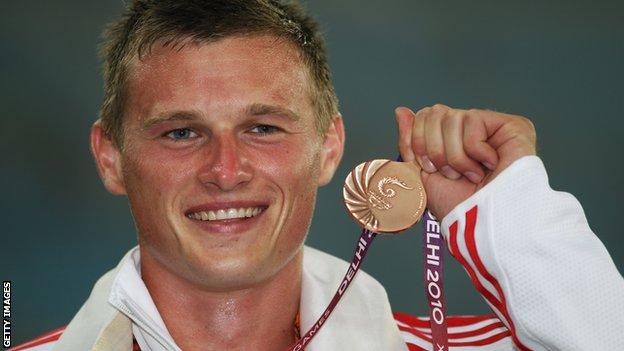 Maidstone decathlete Martin Brockman plans to continue his career in the US after accepting a scholarship at the University of Michigan.
He told BBC Radio Kent: "I can't turn that down. To have all the facilities in one place is ideal.
"That's a great opportunity, will fund the rest of my career and give me a degree at the end."
Having spent his inheritance last winter training in Australia, Brockman missed out on a place on Team GB at London 2012.
He admitted it was hard to watch from afar but a chance meeting with David Harmer, an old training partner, changed his fortunes.
"David went over to the USA for the same thing," Brockman explained.
"When I spoke to him over the summer, I asked him how I go about doing it.
"Next thing I know, he's spoken to some people and they emailed asking if I want to go over.
The 24-year-old turned down the chance to study in the UK when he left school, opting instead to train full-time.
He now hopes to combine a degree in Business and German with training at one of the US's premier sporting institutes.
"I've struggled for the last six years now to pay for training," he continued.
"It'll be nice to train indoors, especially with it being -10 degrees in January.
"Being able to run quickly all year round is going to be a huge advantage."
The scholarship's timeframe fits in neatly with the 2016 Olympic Games in Rio de Janeiro and the 2017 World Athletics Championships.
Brockman intends to call time on his career when his degree in the States is completed.
"Five years takes me up to the World Championships in London," he said.
"After that is the Commonwealth Games in 2018. I've said if any of the athletes I coach make it, I'll do the extra year so I can give them a whipping.
"Other than that, I'll probably be retiring after 2017."