Mo Farah may go for Rio Olympic 10,000m and marathon double

By Tom Fordyce
Chief sports writer, BBC Sport
Last updated on .From the section Athletics27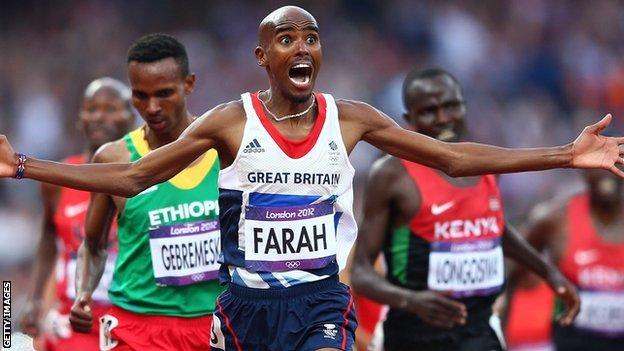 British distance-running hero Mo Farah may attempt an audacious 10,000m and marathon double at the Rio Olympics.
Farah won 5,000m and 10,000m gold in London this summer, a feat that sees him join a list of Olympic distance greats that includes Emile Zatopek, Lasse Viren and Kenenisa Bekele.
But his coach says he is unlikely to attempt to defend that double in 2016.
"My guess is that he will do a 10/marathon double," Alberto Salazar told BBC Sport.
"At Rio, that would be a good shot. We will have to look at the schedule, but if the 10 is first, he would go 10,000m and marathon."
Even attempting a 10,000m and marathon double is an extreme rarity in modern athletics.
Finnish great Viren entered the marathon after winning his second 5,000m/10,000m Olympic double in 1976 but finished fifth. He then went for a 10,000m/marathon double in Moscow in 1980 but missed out on a medal on the track before failing to finish the marathon.
In fact, only the legendary Zatopek has succeeded, winning the 5,000m, 10,000m and marathon - on his debut over the distance - in Helsinki in 1952.
Ethiopia's Mamo Wolde won marathon gold in Mexico City in 1968 but had to settle for silver in the 10,000m. In Tokyo in 1964 he finished fourth on the track and dropped out on the road, while in Munich in 1972 he went out in the 10,000m heats before taking marathon bronze.
But that was a different era, without the intense competition Farah faces today.
"It would be so much tougher now," Salazar admitted. "There were a hundredth of the runners then that we have now."
At this summer's Olympics the men's 10,000m was held on the evening of Saturday 4 August, with the marathon on the morning of Sunday 12 August.
In Beijing four years ago the marathon came seven days after the 10,000m final. The schedule for Rio is yet to be released, but it would be a surprise if it deviated from the established template.
"He would have a week," believes Salazar. "That is more than enough to recover from one race.
"[In London], he runs a great 10,000m, does the 5,000m heats and then beats everyone fresh in the five final. If he has a week between the 10 and the marathon, he'll be completely recovered.
"The good thing is the average high temperature in Rio at Olympics time is only about 75 degrees Fahrenheit. In London the average high was 70-71, so it's almost the same."
Farah was widely expected to accept a big-money offer to run a marathon next spring, with London the obvious race.
But he will now stick to the track for at least one more year, and attempt to match his Olympic double at next summer's World Championships in Moscow - meaning the earliest he is likely to make his marathon debut is spring 2014.
Last summer in Daegu he won world 10,000m silver before adding 5,000m gold a few days later.
Salazar revealed: "He won't go to the marathon until 2014. The way we look at it is pretty simple: he's the best long-distance runner on the track in the world right now.
"He's got the World Championships coming up next year. We know he can be very good at marathon, but we don't know he can be the best in the world - it's a different event. So why would you go from where you are the best in the world to something completely unknown?
"What if he goes to marathon too soon? It messes up your track training. For one thing, you've got to train differently for six months, so you lose that normal track training you need. Then it's going to take you three or four months to recover.
"It's crazy. Why would you risk all that? The only time it makes sense is that he could run the Worlds in Moscow next summer and then do London in April 2014. There is no Worlds or Olympics in 2014, so he could run London and then still perhaps run a late track season in August."
The idea of that distance double in Rio is likely to fascinate the athletics world. But, while unlikely, it is backed by sound logic.
"Mo is getting older, and by [Rio] he will be 33," said Salazar.
"He'll run the 10,000m either way. It will be better than his 5,000m by then, because he maybe will have lost a little speed. And then we think, you've got a better chance of winning the marathon than the 5,000m at this stage in your career.
"The exception will be if his track running is continuing to go so good that we feel, you know what, maybe he's tried a marathon, but if he's still on top in the 5,000m, why would he go to marathon?"
Farah is also unlikely to run indoors this winter. In the past he has used the indoor season as a key part of his training for the summer, but the combined strains of London and the arrival of his twin daughters mean he will not race again on the track until May.