New boss Peter Eriksson targets golden future for GB athletics

By Tom Fordyce
Chief sports writer, BBC Sport
Last updated on .From the section Athletics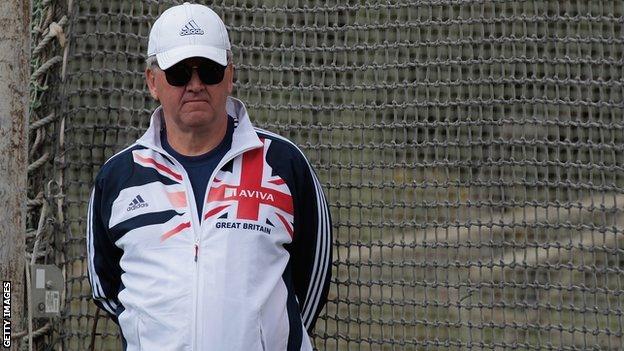 When a Swedish coach called Eriksson takes over a British team and starts talking about a "golden generation", it doesn't necessarily engender a sense of great optimism in home hearts. Haven't we been here before?
Tabloid editors, tittle-tattlers and Tord Grip can stand easy. This is no second coming of Sven. In appointing former Paralympic principal Peter Eriksson as their new Olympic head coach, UK Athletics hopes to win rather more than England's footballers did under their own Swedish supremo.
In simplest terms, the 59-year-old Eriksson is the new Charles van Commenee. In rather more detail, he is the man who will drive the nation's athletes and coaches on to the next Olympics in Rio in 2016 and the World Championships that follow in London.
In a moment, his in-tray and expertise. First, that Van Commenee comparison.
While on the surface there may seem similarities - overseas coaches brought in at considerable expense, a track (and field) record that speaks of sustained success - the two men differ in both method and outlook.
Van Commenee - combative, charismatic, accidentally or otherwise the source of spicy headlines and colourful quotes - was instantly recognisable and unmistakably blunt. Brought in to put boots up backsides after the unlamented reign of Dave Collins, he was a big name for the big stage, a man who could look at the pressure of running the key sport at a home Olympics and relish every second in the spotlight.
Eriksson - softly spoken, thoughtful, a father of four teenage daughters and resident in sleepy Solihull - will go about his role in contrasting fashion.
"I'm not going out and looking to be the figurehead in the media," he says, with low-key calm. "If that's what happens that's what I'm there for, but I'm more of a quiet personality."
"Peter's and my approach," says UKA performance director Neil Black, the man who made the appointment, "is probably a little more 'let's sit down and listen', to appear as if more time is spent getting an understanding before making a decision.
"At times it appeared that Charles didn't do that, or wasn't interested in that, although having worked with him I think he did more of that than people think."
Not for the new man a general's dictatorial approach or medal target that could leave him a hostage to fortune, as Van Commenee was after the GB team failed to reach his stated mark of eight Olympic medals.
Press conferences are likely to be duller. Even after his most headline-worthy comment on Tuesday ("We have in front of us a golden generation going forward to 2016") Eriksson soon rowed back after being informed of its connotations ("We can skip that quote. Otherwise it will follow me forever").
Equally, there are likely to be fewer public rows, as his predecessor had with Phillips Idowu and others. Eriksson even has a presence on Twitter, a medium famously decried by Van Commenee as being for "attention-seekers and clowns", and on Facebook too, "although I only have 10 friends".
There is also substance beneath the Scandinavian composure.
As Paralympic head coach Eriksson guided Britain's athletes to third in the medal table at the London Paralympics and second at the 2011 World Championships. As a young man he was an elite speed-skater; he has been head coach to the US Paralympic team, and has attended five Olympic Games as a coach.
His reputation has been established on innovation (it was his idea to send brilliant young Paralympic sprinter Jonny Peacock to work with Dan Pfaff's able-bodied group at Lee Valley, which also includes Olympic long jump champion Greg Rutherford) and bridge-building.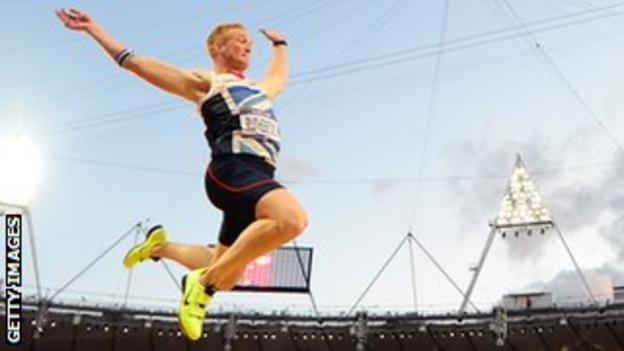 "It's the responsibility of the athlete and their coach to increase their performance," he admits. "You can have a disagreement, but if it works it works. Let's not change something just because I believe it's not the right thing to do."
Neither will he be an easy touch. While he sees his role as setting goals for athletes and coaches, monitoring their progress and giving them the facilities and support they need, he will insist on change if results are not delivered at major championships.
"I don't know if I'm 'soft love'. If you hire coaches to do the job, let them do the job, right? You have to listen to their needs. But if they are not up to the standard, then it's going to be tough.
"I will change things if I have to. The athlete is the one who takes the medal. So if it doesn't work, what are they going to do about it?"
Eriksson's new position is both a reward for his Paralympic medal haul and the result of a desire within UKA for continuity. He has worked with Van Commenee and Black closely over the past four years.
As to disquiet that another big-money position has gone to an overseas coach, Black has a simple answer.
"There were a number of UK-based coaches who had clearly evolved, they were feeling more confident, they felt developed, but a number of those conversations ended with 'I'm not quite sure I'm ready for this yet', and, 'perhaps in the future'." Peter was the best applicant by far."
In his job interview, Eriksson compared his role to that of a Ryder Cup captain. He will not coach, but he will talk to coaches. He will pick teams. He will put the training and competition structure in place, and he will try to get the absolute best out of the varied talent at his disposal.
"As a head coach I don't think you should coach any athletes," he admits. "You have to focus on getting the best out of the coach/athlete pairings."
His first objective, with serendipitous timing, will be next spring's European Indoors in his native Sweden. Beyond that lie the World Championships in Moscow; further down the line, he has the task of beating GB's athletics tally of six medals in London.
He must sort out the under-performing sprint relays, bring Idowu in from the cold, establish closer relationships with disaffected coaches and make sure that the young talent out there - the golden generation he referred to - actually converts that potential into medals.
"That's a big task, but with the right coaches it's possible," he says.
"We can perform even better. I think the next five years is going to be really exciting for British athletics."