Jessica Ennis says Charles van Commenee wanted her to move
Last updated on .From the section Athletics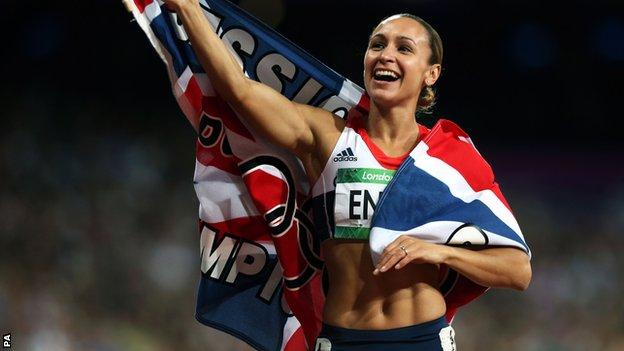 Jessica Ennis has revealed former UK Athletics head coach Charles van Commenee wanted her to move to London ahead of the Olympic Games.
The Sheffield-based athlete resisted the move and subsequently won Olympic heptathlon gold at the 2012 Games.
The 26-year-old told BBC Radio 5 live that Van Commenee also put pressure on her own coach, Toni Minichiello, to make the move.
"I just didn't want to make any changes that drastic," she added.
The changes were proposed when UK Athletics was restructuring in preparation for the London Olympics.
Ennis said: "I had a few discussions with Charles because he wanted me to move down to London and he thought that would be a good set up for me but I was just so passionate about what I believed was right.
"I had such a great set-up in Sheffield and I'd been successful. I'd won the World Championships and had a great year before."
Revealing that pressure had been put on Minichiello, she said: "Obviously my coach works for UK Athletics and there were discussions about 'your job will be made available in London and this is where you'll be based'.
"They knew that would be difficult for me because we're a unit and we need each other to perform and to achieve what I need to achieve.
"Luckily Chell [Minichiello] was very adamant we both believed in what we were doing in Sheffield and we both stayed strong on that and it worked out really well."
However Ennis, who was named Sunday Times Sportswoman of the Year on Thursday, said Van Commenee only wanted the best for her.
"Charles is a lovely man and did believe in me and wanted me to be successful," she concluded.
"I think Charles is a slightly different character and might go about things in a slightly different way but that belief and that well being was definitely there with him.
"Maybe some comments weren't great - I'm being very diplomatic - but he wanted the best for me 100%."
Van Commenee stood down from his role after Team GB fell two short of his own target of eight athletics medals in London.
He is being replaced by UK Paralympic head coach Peter Eriksson, who officially takes up the position in December.