Ciara Mageean out of country country season after injury lay-off
Last updated on .From the section Athletics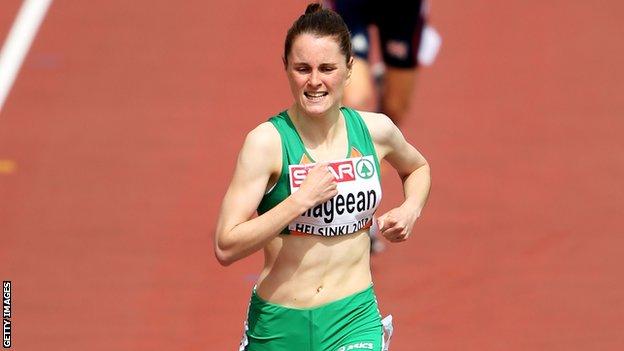 Ciara Mageean will miss the cross country and indoor seasons over the coming months as she continues to recover from an ankle injury.
Mageean, 20, only resumed light running this week after being unable to train for the past four months.
The Portaferry athlete has been undergoing a rehabilitation programme under the supervision of Athletic Ireland's lead physio Emma Gallivan.
She is also working with UCD strength and conditioning coach George Petrakos.
UCD student Mageean went into 2012 with high hopes of qualifying for the London Olympics after being close to the Games A standard last year.
However, the Northern Irish athlete was unable to produce her best form this season and coach Eamonn Christie says it was discovered late in the summer that she had been suffering from ankle bursitis.
"She had been managing an ankle issue for quite some time but it was only at the end of the season that it was discovered that the problem was more serious than was thought," Christie told BBC Sport.
"So basically, she has had rehab over the past 16 or 17 weeks. That's all being going satisfactorily and she had her first light run earlier this week.
"But with that amount of time missed, she will miss the country country season and it's very unlikely that she have an indoor season either.
"At this stage, it's just a case of looking ahead to next summer and hopefully earning a place at the World Championships in Moscow."