Jessica Ennis says 'healthy'-sized sportswomen can inspire girls
Last updated on .From the section Athletics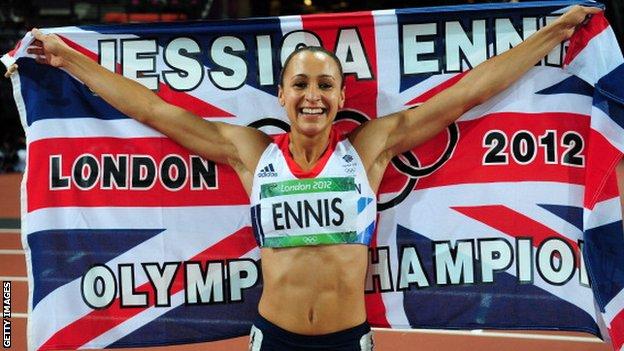 Olympic champion Jessica Ennis believes increasing the profile of sportswomen can help create a healthy body image which young girls can aspire to.
Ennis was speaking on BBC Radio 5 live's 'Body Beautiful?' as part of the station's women's sport special.
The 26-year-old said: "There's a kind of perfect figure that's put out in magazines but it's not realistic.
"If sportswomen are put out there a bit more, it creates a real healthy body image for young girls to aspire to."
Ennis, winner of Olympic heptathlon gold at London 2012, reveals she worries about her appearance, just like "every other girl around the world".
"You look in the mirror and you like bits but you see things you don't like and there's definitely things that I don't like about my figure," the Sunday Times Sportswoman of the Year told 5 live's Eleanor Oldroyd.
The 26-year-old also talks about how she "hated" lifting weights as a teenager because she knew they would change the way she looked.
"I suppose it was around about the age of 16," says Ennis.
"You want to be the same as everyone else and look the same as your friends. Obviously I was training and wanted to be a successful athlete and that was about the same time a weight and strength programme was introduced to my training.
"I absolutely hated it. I didn't want to lift weights. I really avoided those exercises for a while, but it was something I had to make a big decision on.
"You can't become Olympic champion or world champion without having a strength-conditioning programme. I had to realise there was a bigger picture."
Ennis says comments made by a high-ranking UK Athletics official before the Olympics, suggesting that she could do with losing a few pounds, had little effect on her.
"It came out just before I had a big heptathlon [event] and thankfully I was in a great place, really secure in how my training had gone and my weight," says the Sheffield-based athlete.
"To be honest it didn't affect me in the way it might have affected other people. You do have to be really careful when you talk, no matter what context it is, when you talk about someone's weight."