Wada wants to double length of bans for drugs cheats
Last updated on .From the section Athletics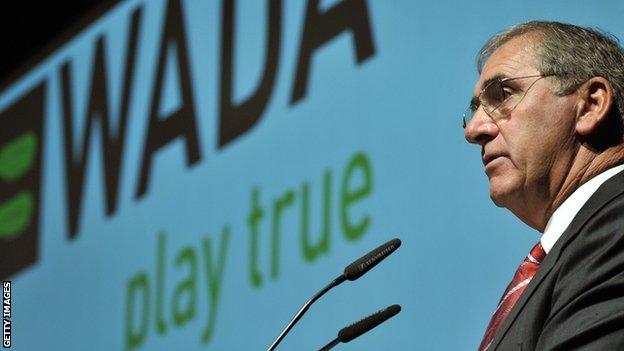 The World Anti-Doping Agency plans to double the length of bans handed out to athletes found guilty of serious doping offences from two to four years.
If the draft proposal is passed, the bans would come into force from 2015.
Athletes are currently suspended for two years for a first major doping offence and banned for life if they test positive again.
"There is a strong desire to strengthen the sanction articles in the code," said Wada president John Fahey.
"This second draft has done that, doubling the length of suspension for serious offenders and widening the scope for anti-doping organisations to impose lifetime bans."
Fahey also revealed that Wada's funding would be frozen for a second successive year at approximately $28m (£17.5m).
"This freeze is not ideal for the fight against doping in sport," he added.
The four-year bans would be handed out for serious doping offences such as use of anabolic steroids, human growth hormone, masking agents and trafficking.
The British Olympic Association has welcomed the move and spokesman Darly Seibel said: "There has been broad consensus that a two-year sanction for a serious first-time doping offence was insufficient and did not send the right message as a deterrent to those who might consider breaking the rules.
"By strengthening the sanction, Wada is moving in the right direction."
However, there are no plans for a specific rule to ban offenders from the Olympics.
A former International Olympic Committee rule, introduced in 2008, prohibited athletes from competing at the next Games if they had been suspended for six months or longer.
However, that rule was judged to be non-compliant with the Wada Code in 2011 by sport's highest court, the Court of Arbitration for Sport.
That ruling in turn led to the British Olympic Association being forced to overturn its own Olympic ban on drug cheats, such as sprinter Dwain Chambers and cyclist David Millar.
"The rationale is if more four-year sanctions are delivered, then there won't be any need for [the IOC rule] because the athletes will be missing the next Olympics," added Wada spokesman Terence O'Rorke.
The proposed ruling will undergo further review up until March 2013 before a final draft is sent for ratification at the world anti-doping conference in Johannesburg in November of that year.