Adam Gemili pledges to retain coach Michael Afilaka
Last updated on .From the section Athletics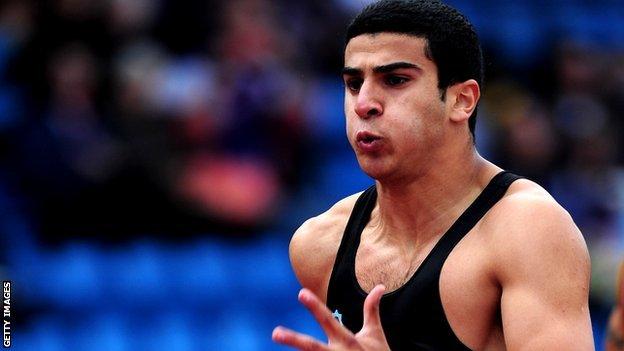 British sprinter Adam Gemili says he will remain with coach Michael Afilaka, who seems set to be made redundant as part of a UK Athletics reorganisation.
The sprinter, currently in Barcelona, discovered on Friday that Afilaka's role was under threat as a result of UKA's "performance restructuring".
"I'll still train with him," Gemili insisted. "He's taken me to the next level and helped me a lot."
Gemili, 19, was the youngest member of Britain's Olympic team in London.
Afilaka discovered Gemili, a former trainee at Chelsea football club, at Blackheath and Bromley athletics club in January.
"He has been one of the most important factors [in my development] and obviously it's a shame that he's lost his job," said Gemili.
A spokeswomen for UKA declined to discuss if Afilaka would be laid off during the organisation's "performance restructuring", details of which will be published next week, she said.
Their partnership yielded almost immediate success. In July, prior to his London 2012 participation, Gemili became the fastest 100m sprinter in World Junior Championship history.
Gemili also said he would not relocate himself to Loughborough, when UKA are looking to base their training operations.
"I can tell you that I won't be moving up to Loughborough," he said. "I'll still be based in London, keep doing what we're doing and try and run quick next year."