Martin Brockman refused permission to compete in USA
Last updated on .From the section Athletics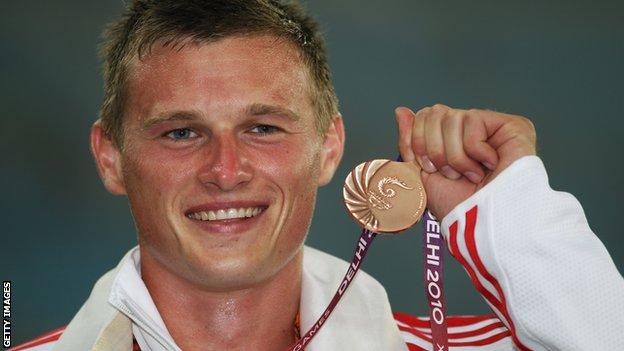 Decathlete Martin Brockman's planned move to the University of Michigan is off after authorities refused him permission to compete in the USA.
The 25-year-old told BBC Radio Kent: "I'm not eligible to compete, having already been to a major games.
"Now the plan is to set up something for the rest of the year and possibly go to a different university in 2014."
He added: "The rules are quite strict around who can and cannot compete.
"They've deemed that I've been a professional athlete which gives me an advantage over others.
"It's a big blow. I was planning for the rest of my career to be funded, coming out with a degree.
"I'm now in a position where I'm coach-less and cold but I've put plans together to go forward already."
Those plans involve using his inheritance in order to spend much of this winter in Australia.
The Maidstone athlete used his grandfather's inheritance in order to train down under last winter.
"My nan recently passed away," he said,
"I'm planning to take that money and visit family in Australia again. I've got to find somewhere warm.
"I'm going to book flights and leave as soon as possible."
Brockman aims to compete in the National Indoor Championships in January before heading to Australia.
Last year, he set numerous personal bests in training, making particular progress in the throws.
But although he faces a financial and academic shortfall, Brockman refuses to concede it will mean the end of his dream.
"I've had to change my plans but I'm not going to let it affect the rest of my career," he said.