Hurdler Jack Green vows to improve on 2012 showing
Last updated on .From the section Athletics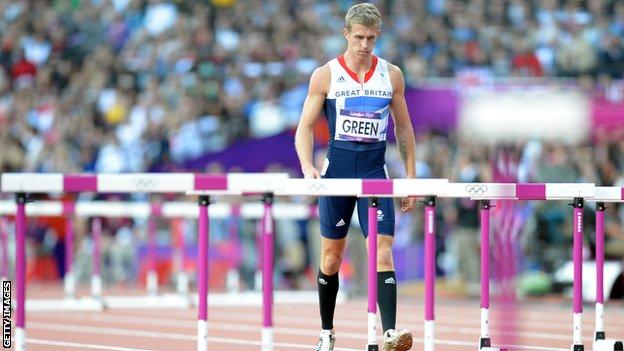 Kent athlete Jack Green has vowed not to repeat the errors of 2012.
He told BBC Radio Kent: "I'm not going to let that happen again. You learn. I don't want to be in a sport where I don't believe I can be the best.
"As much as it's a good life, we train very hard. I wouldn't put myself through that if I thought I was going to be an extra."
He added: "I wouldn't waste my time doing it."
The Hythe hurdler set a new personal best and British Under-23 record in the 400m hurdles in the last 12 months of 48.60 seconds.
He then ran a sub-45 second leg in the final of the 4x400m relay at London 2012, the quickest of all the hurdlers in the field.
However, he still regards his year as a disappointment.
"I had stride pattern issues all year," he said. "I didn't run as quickly as I should have.
"I wasn't as consistent as I should have been.
"I fell in the hurdles which sucked a lot. It still haunts me to this day.
"Had I finished and I hadn't run quick enough I could accept that. I feel I didn't even give myself the opportunity.
"The relay was the very promising thing. I've just got to sort the technical side.
"There's a reason you peak at 29," he added.
Green will now turn his attention to a full winter schedule, culminating, he hopes, at the European Indoor Championships in Gothenburg in March.