Greg Rutherford wants to be 'synonymous with long jump'
By Chris Osborne
BBC East Sport
Last updated on .From the section Athletics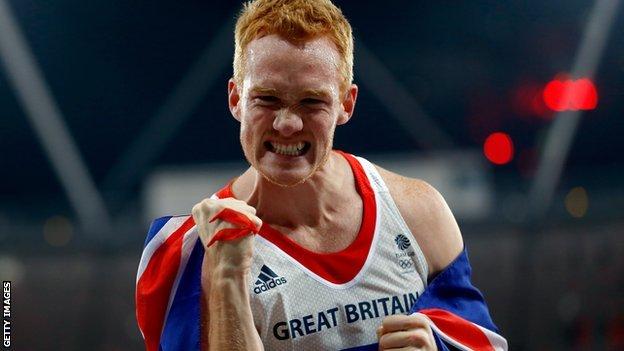 Great Britain's Olympic long jump gold medallist Greg Rutherford says he wants to cement his legacy as one of the greatest in the event.
"It's about winning more medals now," he told BBC East Sport.
"It's about going to the World Championships and solidifying myself as one of the greatest long jumpers, not just a guy who won an Olympic Games."
Rutherford went into the Games to little fanfare and, despite being the joint number one in the world, was considered a surprise gold medal winner by some sections of the media.
It is a reaction that has rankled with the Milton Keynes athlete and honed his eagerness to bolster his claims as a world-class long jumper.
"Some people assume I turned up a few days before the Olympics thinking I'd try out the long jump," he said, speaking after being named
"I've been an Olympian for four-and-a-half years and a professional athlete for six or seven years.
"I've made finals of worlds. I've won Commonwealth and European medals so it's not as if this was a bolt from the blue. I've been a world top-10 athlete for the last six years.
"But sadly the long jump isn't a well promoted sport so people don't know anything about it.
"I've got to win multiple medals now. I'm hoping that over the coming years I'll pick up more major medals, retain my title at Rio 2016 and aim to win the worlds in London in 2017.
"Then, when I retire, I can look back on my career with a lot of fondness and success.
"Hopefully people in this country will see the long jump as a great event and will see me as synonymous with the event."
Foot and stomach operations have ruled out Rutherford for the indoor season, but he hopes to be fit in time for the first Diamond League meeting of 2013 in May.
"They're healing ridiculously fast. I'm seven weeks in and I ran on Tuesday. Not full pelt, but to be able to do that is fantastic at this point," he said.
"I think I'll be jumping mid to late January. And then full pelt by late February."
Rutherford is also preparing to base himself in Phoenix, Arizona in order to keep working with coach Dan Pfaff.
"It makes sense," he said. "It's a hot climate, it's a great facility and it's out of the way. While I'm there I'll have no distractions."