Mo Farah the greatest of all time, says coach Alberto Salazar
Last updated on .From the section Athletics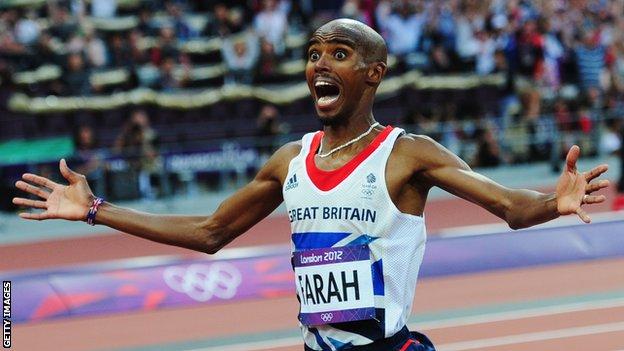 Mo Farah should be regarded as the best 5,000m and 10,000m athlete of all time following his double gold medal-winning runs at the London 2012 Olympics, says his American coach Alberto Salazar.
Farah, 29, became the first British runner to do the Olympic distance double.
And Salazar told BBC Sport: "For Mo to beat the best in the world twice at the Olympics, he's not matching those guys who have done the double before.
"He's surpassed them by far."
Farah beat his American training partner Galen Rupp to win the 10,000m Olympic gold on 4 August. Seven days later, he held off Ethiopia's Dejen Gebremeskel and Kenya's Thomas Longosiwa to take the 5,000m Olympic title.
For the Londoner it was reward for the work he had put in with Cuba-born Salazar, who started working with the British athlete in February 2011.
Salazar said: "I had expected it to happen, so to see all that training and work come together so perfectly was an incredible feeling and one I will never forget."
Farah became the seventh man to win the 5,000m and 10,000m titles at the same Olympics, joining a list of distance greats that includes Emile Zatopek, Lasse Viren and Kenenisa Bekele.
Finnish runner Viren is the only man to have done it twice, achieving the feat at the 1972 Games in Munich, and then again four years later in Montreal.
But Salazar argues that Farah's double is more impressive because of the quality of the fields he had to beat.
"He did it against better competition than ever before," Salazar said. "I know Lasse Viren did it twice. But distance running now is more competitive by far than it ever has been.
"It is a much harder thing to medal in distance running now than it was 20 to 30 years ago.
"Why? Because there are so many more East Africans who are tremendously talented at running. Back in the 1976 Olympics, there were maybe four pretty good East African runners in the field. Now in a 25-person field, there are 20 to 22 and some of them are East Africans running for different countries as well."
As far as Salazar is concerned, Farah's achievement will encourage more British youngsters to take up distance running.
"What it does for British kids is that it encourages them to believe," he said. "This shows they can compete with East Africans. What happened will be the turning point in terms of English and American runners returning to being competitive again at world-class level.
"They won't dominate again but they won't be the doormats they've been for the last 20 years."