Fionnuala Britton to be joined by top Africans at Antrim
Last updated on .From the section Athletics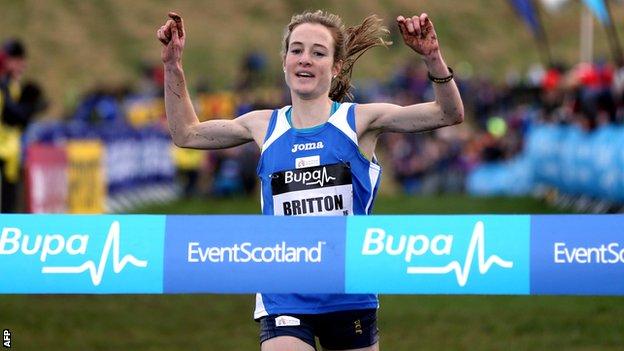 Fionnuala Britton will be the big draw at next weekend's international cross country meeting at Antrim but the men's field will also include several talented African athletes.
2010 Commonwealth Games 10,000 metres bronze medallist Joseph Birech will compete at the IAAF meeting.
The field will also include his Kenyan compatriots Bernard Rotich, David Bett and Julius Maisei.
Rotich, 26, finished third in last year's race at Antrim.
Bett won the 5,000m title at the 2010 World Junior Championships in Canada while Maisei is a marathon specialist with a personal best of 2:08.13 for the 26-mile distance.
The British challenge will be provided by Frank Tickner and Andy Vernon.
Tickner finished a superb fifth last year and was the only non-African in the top eight while Vernon took 13th in last month's European Championships in Budapest and was third in Edinburgh on Saturday.
However, with all due respect to the male athletes, Britton will be the big name in action at Greenmount.
The organisers of the Antrim event will have been delighted by the Wicklow woman's latest impressive win at Saturday's Great Edinburgh Cross Country event.
The Irish European cross country champion retained her Edinburgh title to help Europe win the team event in Scotland.
Britton became the first woman to retain the European cross country title in December.
The 28-year-old was never threatened by the rest of field and finished comfortably ahead of her European team-mate Adrienne Herzog of the Netherlands and Mattie Suver of the USA.
Britton said: "I didn't think it would be like that. Everyone was holding back and no-one really came up so I had to push on from there."