Usain Bolt: What is it like to manage sport's biggest star?
By Jessica Creighton
BBC Sport
Last updated on .From the section Athletics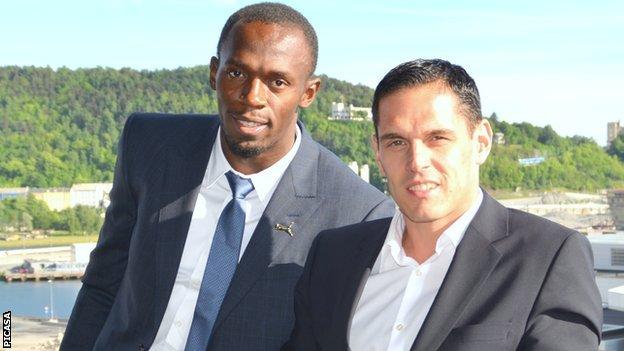 Ever since Usain Bolt was a teenager, he has had Ricky Simms by his side. As Bolt's agent, Simms organises his races, secures his sponsorship deals - and even buys his dinner jackets.
When they first met, more than a decade ago, Simms and Bolt were both well-known in athletics circles.
Irishman Simms was the young, ambitious sports agent who had taken on one of the premier sports management companies in the world while 15-year-old Bolt was, according to Simms, "the talk of the world of athletics" after racing to the 200m World Junior Championship title in Jamaica in 2002 against men four years his senior.
A host of agents tried to sign up the Jamaican after the championships, yet the sprinter chose Simms.
"After graduating from high school, Jamaican athletes traditionally go to university in the United States and spend four years there before they turn professional," says Simms, who has just agreed a deal for Bolt to compete in the Anniversary Games in London in July.
"But Usain didn't want to do that. He liked Jamaica, was close to his mum and couldn't face living away in a cold city - he doesn't like the cold so much.
"He decided he was going to turn pro in 2003 rather than go to university and it was recommended that he to talk to us."
The pair quickly hit it off and have had a strong relationship ever since.
When the six-time Olympic champion is too busy to shop for a suit for yet another glitzy awards evening, it's Simms who turns personal shopper.
"We do a lot of things for Usain and other clients that are not simple business things," says Simms. "Like buying flights, buying cars, PlayStations, tuxedos, whatever.
"One hour I'll be doing management work for him, one hour I'll be doing agent work for him. Another time I'll be doing big brother work for him."
Yet Simms became involved in his line of work almost by accident. "When I was at school and talked to my career guidance teacher, it [sports management] was a world that we didn't know existed," Simms remembers.
He had always been passionate about athletics as a teenager growing up in picturesque Donegal in the north-west of Ireland and competed for his county at running, before going on to become a PE teacher.
Then came a meeting that transformed his career prospects. "I was introduced to someone called Kim McDonald, who was one of the leading agents in the world," Simms said.
"He was one of the first people in the world to represent Kenyan athletes and give them the opportunity to run in Europe. He was coach and agent to Ireland's most successful athlete, Sonia O'Sullivan, and Olympic 1500m silver medallist Peter Elliott.
"I started work for him in 1999 and learned what the business was about. He gave me lots of responsibility. The next year I was travelling on the big circuits to Zurich and Brussels to all the big meets.
"Kim died suddenly in 2001, which was a massive shock to the athletics community. He had one of the biggest sports management companies in the world."
Simms was still new to the industry and many of his clients wondered whether he was up to the job, but his childhood friend Dermot Donnelly says he quickly proved the doubters wrong.
"There's a determination in him, he's always been like that," Donnelly says. "Yes he's quiet, yes he's unassuming, but that's not a weakness. He started by ferrying athletes to and from the airport so they could get to their races."
He went on to build an impressive client list, including Mo Farah, Phillips Idowu and Christine Ohuruogu, but Bolt took things to a different level.
However, the Jamaican's journey to the top was not always straightforward because he was hampered by injuries in the early years of his professional career.
But after joining top Caribbean sprint coach Glenn Mills in 2005 he started "strengthening his body and training in a way so he didn't get injured so much", according to Simms.
"In 2007 he got a silver medal at the World Championships, which was the turning point," said Simms. "He said 'if I can win a silver not training that hard, if I apply myself a little bit more I can start winning gold'."
And in the summer of 2008, everything came together as Bolt won the 100m, 200m and 4x100m in Beijing to become a worldwide star.
Off the track, Simms and the rest of 'Team Bolt' work feverishly to help Bolt with his media and commercial work, sorting out travel and accommodation, and generally trying to make his life run as smoothly as possible.
"We always try to prepare him just like a president of a country," Simms says.
"When he's going to do an interview, we prepare him on the kind of questions he's going to get asked. When he meets someone we give him background on those people so he knows what he's talking about."
Meanwhile, Simms's life is devoted to working for Bolt and his other athletes. Having children, holidays and even evenings at home have all been abandoned.
And with Bolt having pledged to compete at the next Games in 2016 and making a winning start to his 2013 season, a "normal life" may be some way away yet.