GB marathon runner Mara Yamauchi retires from athletics
Last updated on .From the section Athletics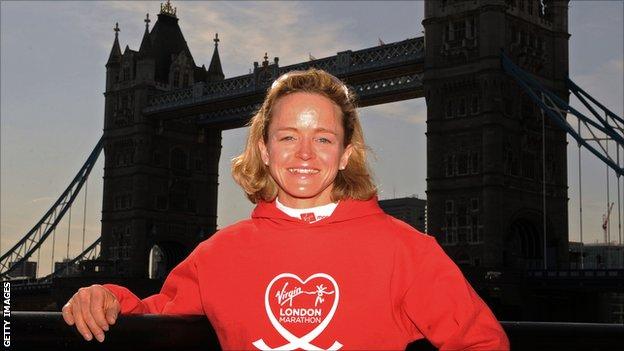 Former Great Britain Olympic marathon runner Mara Yamauchi has decided to retire from elite competition.
Yamauchi, 39, competed at the Beijing and London Games and is Britain's second fastest ever marathon runner.
The Oxford-born athlete also competed in six London marathons and finished runner-up in 2009 in a time of 2:23:12.
"I have achieved my childhood dream of becoming an Olympian and enjoyed many years training and competing as an elite athlete," said Yamauchi.
Yamauchi, who will return to her previous employment at the Foreign and Commonwealth Office, added: "To be able to do what you love as your job is a rare and special privilege, and I am very grateful to all the people who have enabled me to do that.
"I have now decided that it's time to leave elite competition behind, and instead I will run for enjoyment and to stay healthy.
"The most memorable moments of my career were finishing sixth in the Beijing Olympics, and winning the 2008 Osaka Marathon. But the most enjoyable thing was just going out training with friends."
At the London Games Yamauchi bowed out after 10km of the race after suffering a foot injury and admitted afterwards she did not know if she would race again.