Paralympic silver medallist Stef Reid wants Glasgow 2014 place

By Kheredine Idessane
BBC Scotland
Last updated on .From the section Athletics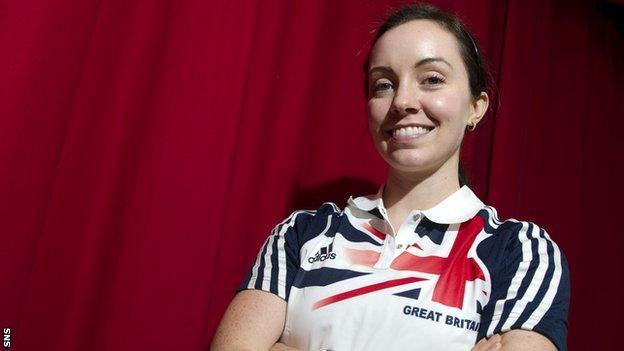 Scotland's Paralympic long-jump silver medallist Stef Reid says she's now aiming for the able-bodied event at the Glasgow 2014 Commonwealth Games.
Her own discipline from London 2012 is not included in the 2014 athletics programme, so she's now targeting a 70cm improvement to try to make the Scotland team.
Reid had her right leg amputated below the knee after a boating accident, and qualifies for Scotland through her Glaswegian father.
"In the Commonwealth Games they pick a few Paralympic events, but unfortunately, mine wasn't chosen," she told BBC Scotland.
"So my only option now is to compete as an able-bodied athlete.
"They have a Scotland training squad, and I've made the short-list for that. I know it is a long shot to make it.
"I'll have to make a jump of 6m, but my coach and I were always aiming for 6m for Rio, so I just need to shift things up by two years.
"I wouldn't try if I didn't think it was realistic."
Reid is convinced she has the mental strength to breach the 6m barrier.
"In our minds we set barriers," she said.
"I remember when I was long-jumping it took me a long time to cross the 5m barrier and it wasn't that I wasn't capable of doing it, it was just that I built it up in my mind to be this big thing."
With an accent from across the Atlantic, Reid certainly does not sound like a Scot and she has had a globe-trotting upbringing.
"I was born in New Zealand to two British parents - my Dad is Glaswegian and eventually he got a job in Toronto so we emigrated there," she explains.
"And then I married a guy who lived in Texas, but I've declared for Scotland. It would be such an honour to compete in another home games in Glasgow.
"I'm so proud of my heritage and I know my Dad would be so proud. I grew up playing sport my whole life and absolutely adored it."
However, Reid's early interest was not in track and field.
"When I was 12 I fell in love with rugby - I quit ballet for it and broke my mother's heart - but for me there's just nothing better than running up and down a field covered in mud," she said.
"But then, when I was 16, I was involved in quite a serious boating accident which resulted in part of my right leg being amputated. At the time it was absolutely devastating.
"I remember just being in the hospital bed and looking at one foot and one stump and wondering would I ever be able to run again.
"I managed to find a way of getting back into sport, but, even then, I thought my dream of being a professional athlete was done.
"I studied really hard at school and got a scholarship to study biochemistry, and, literally three weeks into my uni career, I saw track and field practice and something inside of me just screamed.
"I just wanted to know how fast I could still run. I just kept plugging away at it and, in 2006, I was invited to my first international Paralympic track and field meet and it just blew my mind.
"I had no idea that it was going to be an option and it just snowballed until finally I just had to make a decision - am I going to pursue this full-time or am I going to go to medical school?
"So, I just gave it a whirl - and here we are."
She is competing in the international athletics meet on Saturday at Glasgow's Emirates Arena, alongside fellow Paralympian Libby Clegg, and several top stars from the London Olympics.
"Just to be there and 80,000 people cheering you on - I wish everybody knew what that felt like," adds Reid.
"It was somewhere I never thought I'd be.
"I did have to decide, I'm 28 now, am I going to retire? But after that experience, no way am I ready to stop.
"I haven't reached my full potential and the state we're at with Paralympic sport, it's in the middle of this amazing evolution.
"And I don't want to watch it, I want to be a part of it."