Jason Smyth must run PB to qualify for World Championships
Last updated on .From the section Athletics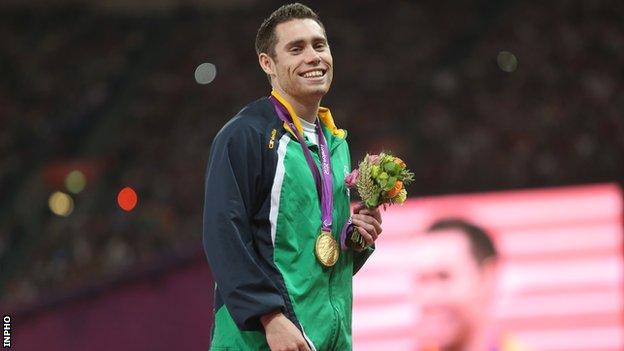 Jason Smyth will have to improve his 100 metres personal best in order to clinch a place at this year's World Championships in Moscow.
The qualifying standards released by Athletics Ireland on Thursday details an A standard of 10.15 with the B mark 10.21 seconds.
Smyth set his personal best of 10.22 in 2011 which earned him a place at that year's World Championships in Daegu.
His 2012 best was 10.24 which was .06secs outside the Olympic standard.
The majority of the Athletics Ireland standards exactly match the IAAF's qualifying marks for the championships in the Russian capital.
However, the Irish governing body have opted for tougher standards in the marathon events and walks.
The IAAF men's marathon standard of 2 hours and 17 minutes has been reduced by Athletics Ireland to 2:13:00.
Northern Ireland runner Paul Pollock clocked 2:16:30 at the Dublin Marathon in October but that time has now been downgraded to a B standard as far as qualification for the Moscow championships are concerned.
However, it's not clear that Pollock has been earmarking the World Championship marathon as a target for his 2013 season.
But the World Championship 10,000m A standard is 27:40.00 which is probably even a tougher mark than is the case with the marathon.
With four Irishwoman having achieved the Olympic marathon standard of 2:37, Athletics Ireland have understandably reduced the soft IAAF mark of 2:43 to an A time of 2:32 and a B mark of 2:36.
The men's 20K and 50K walk qualifying standards are cut to 1:22.30 and 3:55.00 from 1:24 and 4:02 while the women's 20K A time is reduced from 1:36 to 1:33.