Jessica Ennis could pay to retain Toni Minichiello as her coach
Last updated on .From the section Athletics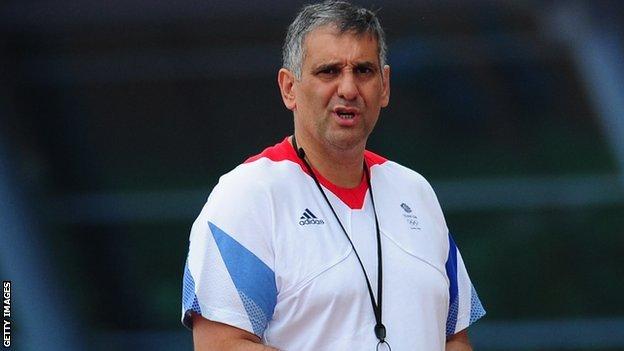 Olympic heptathlon champion Jessica Ennis could pay for Toni Minichiello to continue as her coach after he lost his full-time role with UK Athletics.
New mandates require all coaches to be based in Loughborough unless they are training more than one Olympic or World Championship medallist in their group.
"I think [Ennis paying] is an option," he told BBC Radio 5 live.
Under the new structure, Minichiello would not be due a salary as 26-year-old Ennis is the only such athlete under his supervision, but he and Ennis intend to keep working together in Sheffield despite the Don Valley Stadium being threatened with closure.
"UK Athletics are putting in place an institute that's based in Loughborough," explained Minichiello. "There's a requirement for some of the roles to be there five or six days a week as you would expect, that's where the service provision is going to come from.
"Unfortunately I can't commit that amount of time to Loughbrough because first and foremost I coach Jessica Ennis and she can't spend that amount of time in Loughborough.
"She's going to spend it in Sheffield where there are great facilities, where her team is closer to her."
Ennis' gold medal success came 15 years after she was first coached by Minichiello, who remains confident they will continue to work together despite the changes to UK Athletics.
"I wasn't the only one in that position, there were other guys made redundant from UK Athletics from coaching roles, that's basically the nature of sport and it moves on.
"We're still having some discussions about a potential consultancy role so we'll see how that goes."
Minichiello does not anticipate any changes to the way he and Ennis work together, telling BBC Radio Sheffield: "I was her coach when I was working in another job so there'll be no change there.
"Normally I'm at the track seven days a week, hopefully that won't change."