European Indoor Championships: Bleasdale accepts favourite tag
Last updated on .From the section Athletics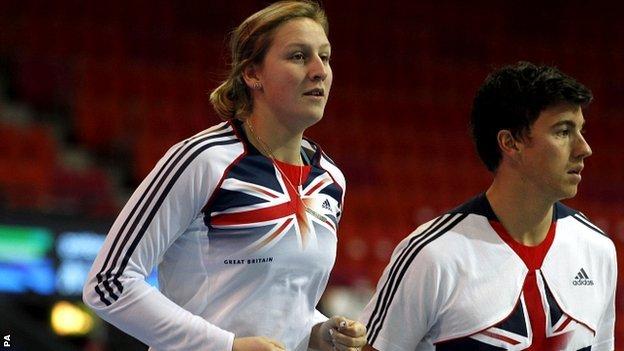 Holly Bleasdale says she is ready to deal with the pressure of being one of Great Britain's leading medal hopes at the European Indoor Championships.
The 21-year-old pole vaulter's jump of 4.77m is the best in Europe this year, making her one of the favourites.
"I've never had to handle the pressure of being one of the favourites before in a major championship," she said before the event in Gothenburg, Sweden.
"I'm really excited to go out there in front of the crowd and do well for GB."
She added: "I'm coming into shape just at the right time, so hopefully everything will work out this weekend."
Other Britons realistically in medal contention include Michael Rimmer and Mukhtar Mohammed, who are currently ranked first and second respectively in the 800m, and high jumper Robbie Grabarz.
The 400m could also produce podium finishes, both in the individual events and the relays.
"It's nice to have that expectation after 2012, but I've always had that expectation of myself going into major championships," said Olympic bronze medallist Grabarz.
"I come to a championships aiming to win it every time. I'd be happy with a medal, but you're here to win, so I'll just have to make sure I jump higher than everyone else."
Team captain Jenny Meadows intends to defend her 800m title despite only recently being presented with the 2011 gold after Russia's Yevgeniya Zinurova was given a backdated doping ban last summer.
Meadows, 31, has raced only once since September 2011 because of injury, but ran the qualifying time in Birmingham earlier this month.
"I think maybe in the rankings I'm seventh or eighth but the Birmingham race was slow and tactical," she said.
"I've got a title to defend and I won't give that up easily. I do think I can get a medal. I don't know what colour."
Britain won eight medals in Paris two years ago but travel to Gothenburg with a squad of 28 that is missing the likes of Olympic stars Jessica Ennis and Mo Farah.
But new head coach after London 2012, believes his squad can win medals.
"I think a few people will surprise here," said the Swede.
The 60-year-old refused to set a medals target, but said he wants to "do better" than Paris, adding: "It's the first major event for me as head coach and happens to be in my former home country.
"I have not lived here for 27 years and not been in Gothenburg since 1995, but it's exciting because we have a young team and a well prepared team and I think we will do well.
"It's early in the year and setting a medal target is unpredictable so we have to look at if we are doing the best we can, and if we're doing that then we are in good shape. Numbers don't mean that much to me."
Van Commenee was famous for being a disciplinarian and fell out with triple jumper Phillips Idowu in the build-up to the Olympic Games, but Eriksson promises a different approach.
"It's a new era and we are going forward to try to develop on where we ended up last year," he said. "We try to do things better and better. I think you need to consult more and more and listen and get feedback in order to improve.
"To me it's all centred around the athletes. The athletes are the focal point, we are all there to support them. It's important to communicate the whole time and be available."