Russia should not hold World Championship - Jade Johnson
Last updated on .From the section Athletics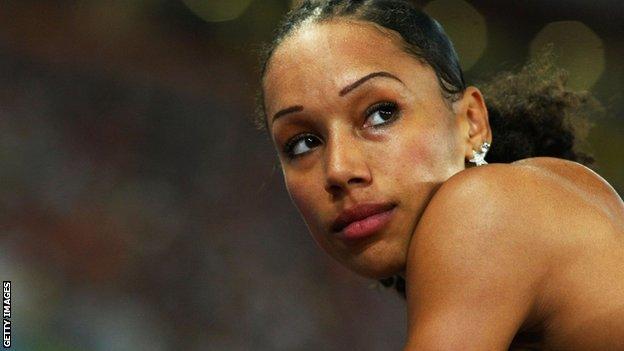 British long jumper Jade Johnson argues Russia should not hold this year's World Championships following more doping scandals involving its athletes.
"We have the championships in Moscow and I don't feel they deserve to have it," Johnson told BBC Radio 5 live.
"Countries need to take responsibility for what's going on with athletes."
Johnson echoed the comments of UK athletics head coach Peter Eriksson, who said last week that there needs to be "greater investigation" into why so many Russian athletes are failing drugs tests.
There are 33 Russian athletes currently serving bans for doping offences.
"This isn't just the first time," Johnson continued. "There are a lot of athletes from that country [caught doping]. It needs to be looked into a little bit more.
"If Russia is held accountable as a nation maybe they will do a better job."
Johnson was a long-time rival of Kotova, who won silver in 2005 and 2003 - when Johnson was fourth - and gold at the 2002 European Championships, when Johnson took silver.
"I absolutely feel like I've been robbed of some great moments that I worked really hard for," said Johnson, 32. "Knowing someone might have robbed me is quite difficult.
"It's a nightmare to be in the stands when you have doubts about what that person is doing and especially when that person is getting medals."
Johnson also believes life bans for those found guilty of doping offences would be a better deterrent than short-term suspensions.
"They should be absolutely banned for life, that will help deter," she added. "Every single thing they have done should be struck off."
Nick Davies, deputy general secretary of athletics' governing body the IAAF, explained that the latest retesting had been carried out eight years after the event to capitalise on the latest technology and equipment.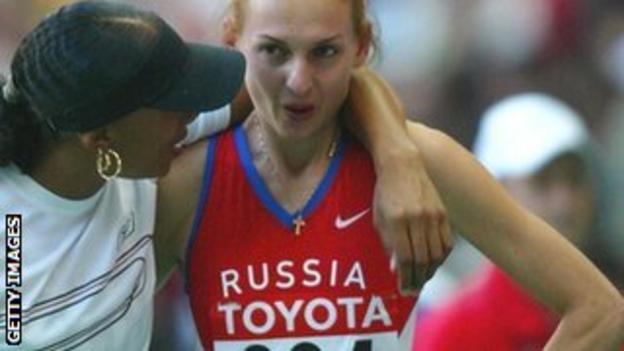 "We have an eight-year statute of limitations on anti-doping, so seven years past the event is really when you want to test, using the most up-to-date equipment," Davies told BBC Sport.
But Johnson believes there should be a system in place to test retrospective samples from an athlete's entire career.
"The amount of sacrifice we make as sports people is so great," Johnson said.
"We lose relationships, we sacrifice money, we sacrifice opportunities just so we can give 100% to our sport, so that's why I'm so angry, it means so much to us as clean athletes."