Ciara Mageean parts company with coach Eamonn Christie
Last updated on .From the section Athletics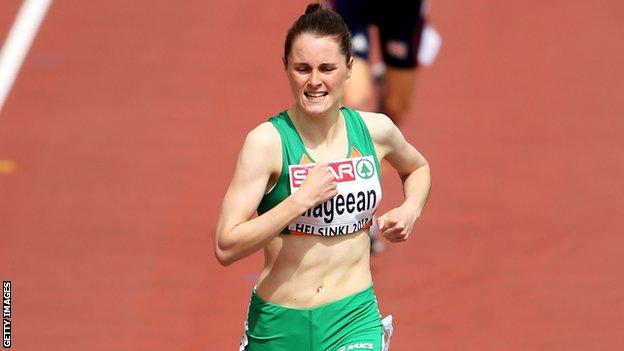 Portaferry athlete Ciara Mageean has parted company with her coach Eamonn Christie.
Christie said that the "very amicable decision to go our separate ways" was taken last week after discussions.
"In the best interests of Ciara's career and progression, I think it's better if I step aside," Christie told BBC Sport.
"We had some great moments together and hopefully she is able to go on and fulfil her potential."
Christie was Mageean's guiding force during the athlete's glittering junior career which was highlighted by a remarkable silver medal at the 2010 World Junior Championships in Moncton, Canada.
Mageean's silver in the 1500m was the only non-African medal across the middle and long distance events in both male and female competition at the Moncton championships.
"That gave me my greatest moment in athletics. I thought she was going to win the gold at one stage in that final but to win silver was a marvellous achievement," added Christie.
"A year earlier, she won the World Youth Championship silver over 800m in Italy and she had the European Junior silver and European Youth Olympics medals as well.
"Those medals are not easily won and she did brilliantly to win them."
In her final season as a junior in 2011, Mageean ran an Olympic B 1500m standard which suggested that she would challenge strongly for Olympic qualification in London.
However, Mageean's first full season as a senior in 2012 was hindered by an ankle injury as she was some distance off Olympic qualification despite earning selection for the European Championships in Helsinki.
Mageean, 21, is now into her second year of a degree at University College Dublin and there may be a number of coaching options for her to pursue in the Irish capital.
After it was discovered late last summer that she had been suffering from ankle bursitis, she underwent a rehabilitation programme under the supervision of Athletics Ireland physio Emma Gallivan as she was ruled out of the recent cross country and indoor seasons.
She has also been working with UCD strength and conditioning coach George Petrakos since beginning her university degree.