World Cross Country: Kent trio to represent Great Britain in Poland
Last updated on .From the section Athletics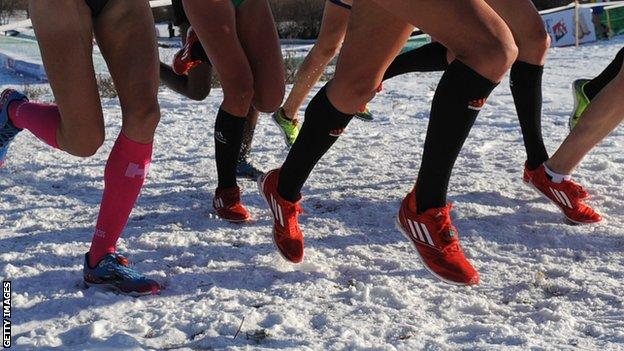 Kent's Rebecca Weston and sisters Alex and Bobby Clay make up half of the Great Britain Under-20 women's team for Sunday's World Cross Country in Poland.
All three, who run for Invicta East Kent A.C, will be taking part in their first world championships.
Club coach Pete Mullervy told BBC Radio Kent: "You spend your whole life looking for athletes with the talent and work ethic to be internationals.
"It's awesome. They're like London buses - three have turned up at once."
The event at Bydgoszcz, is the second time this year that the Invicta trio will line-up to represent Great Britain together.
All three finished in the top five at January's Great Edinburgh Cross Country, competing against a European select team and the United States.
"We're so pleased and our family are just really proud," said Bobby, 15.
"It's all still so new. I love running for Kent but I kind of understand it all now - I've never raced a Kenyan or an Ethiopian before and it's really exciting to try that."
For Bobby and her 17-year-old sister, athletics appears to run in the family after they both started in the sport after joining in with their mum.
Rebecca, the eldest of the trio at 18, has followed quite a different path.
"Last year I was actually playing hockey for Canterbury and also representing England," said Weston.
"I was running too, but things only started to go really well a few months ago.
"I stopped hockey in December after making the decision that I preferred the running and wanted to make that my priority."
In Edinburgh, the GB junior women had the first six finishers, meaning they comfortably won the team prize.
This Sunday's event will be a far sterner test as the girls race against the might of the East Africans.
"This is probably one of the strongest GB U20 women's teams in recent years and they can do really well as a team," Mullervy continued.
"You have to go back a long way to see a race where all the medals didn't go just to East Africans.
"Bobby and Alex have worked really hard in the sport science labs so we know how good they are.
"The numbers say they're as good as Paula Radcliffe [who won the World Cross Country as an U20 in 1992] was at the same age - if anything a little better."