London Marathon should still go ahead, despite Boston explosions

By David Bond
BBC sports editor
Last updated on .From the section Athletics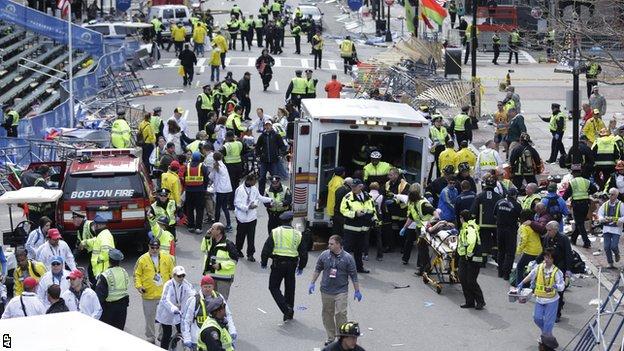 Organisers of the London Marathon moved quickly to announce a full review of security following the tragic events in Boston.
But the chief executive Nick Bitel insisted there was "absolutely no chance" this year's marathon would be cancelled.
While that comment, delivered on BBC Radio 5 Live just a couple of hours after news broke of the two simultaneous explosions, may have felt a bit of a knee-jerk reaction, the defiant sentiment was right.
A total of 36,000 runners, including the double Olympic champion Mo Farah, are due to take part in the race from Greenwich Park to the Mall.
But, as with so many big city marathons, London's is a joyous celebration of all talents, not just the elite. This is what makes it one of the highlights of the British sporting calendar.
The peaceful triumph of last summer's Olympic Games in London had reduced security concerns around this year's event. But protecting a 26-mile course which is completely open to hundreds of thousands of spectators is always a major challenge for the Metropolitan Police and organisers.
The dreadful and terrifying images emerging from America overnight have ensured that the question of terrorism will now hang heavy over Sunday's event.
What happened in Boston provides another chilling reminder of how vulnerable sport can be.