Paul Pollock and Breege Connolly secure Commonwealth times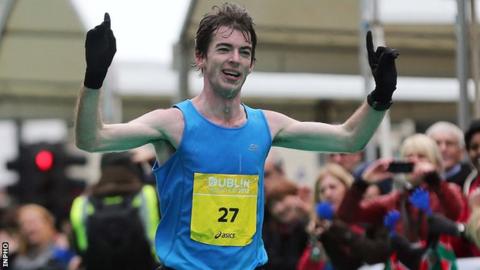 Paul Pollock and Breege Connolly look to have booked their Commonwealth Games places after achieving the qualifying standards at the London Marathon.
Pollock was inside the required Glasgow mark of two hours and 18 minutes as he clocked 2:17.10 to finish 14th overall.
Connolly set a personal best of 2:39.23 which was 37 seconds inside the Northern Ireland Games standard.
Locally, Stephen Scullion clinched his expected victory in the Titanic 10K in Belfast in 30:42.
Gladys Ganiel was also aiming to secure a berth in Glasgow but she was outside her personal best as she clocked 2:42.35.
As was the case during his marathon debut in Dublin last autumn when he clocked 2:16.30, Pollock went out exceptionally fast with an opening 5K of 15:15 inside 2:09 pace.
His 10K mark of 30:54 was still inside 2:10 pace and he reached halfway in 1:06.13.
Pollock was unable to maintain that pace over the second half but still showed commendable guts to hang on to post a decent time which left him as the second best British and Irish finisher behind Scotland's Derek Hawkins, who clocked 2:16.51.
Connolly's time cut 62 seconds off her previous personal best set in Rotterdam last year while Ganiel's time was one minute and 37 seconds outside her previous best.
Ethiopian Tsegaye Kebede won the men's race in 2:06.04 with Kenya's Priscah Jeptoo victorious in the women's event in 2:20.15.
Scullion's hopes of ducking under 30 minutes in the 10K were frustrated by windy conditions as he crossed the line in 30:42 - 34 seconds ahead of runner-up Eddie McGinley, with Declan Reed a further minute and 12 seconds back in third.
Tullamore woman Pauline Curley won the women's race in 36:29 which left her seven seconds clear of Julie Turley with Julie Balmer third in 38:31.