Mo Farah targets victory in next year's London Marathon
Last updated on .From the section Athletics49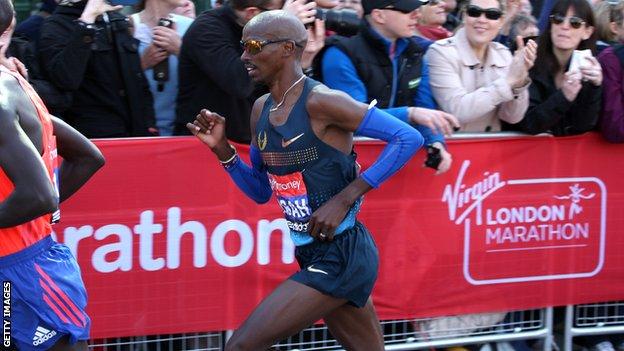 Mo Farah says that victory will be more important than breaking the British record in next year's London Marathon
Farah, 30, insists his priority is becoming the first Briton to win since 1990, rather than beating Steve Jones' 28-year-old British record.
"My aim is being able to come away with a win rather than a fast time," Farah told BBC Sport.
"It would be awesome to come out in London and run a British record and to get close to the British record in a first marathon is good.
"Hopefully we can get Great Britain back in the marathon again and Steve Jones has the record and it's been there since 1985 so hopefully we can get close to the record."
Farah has continually defended his decision to run only half of this year's race.
He insists that his main focus for this year is running the 5,000 metres and 10,000 metres at the World Championships in Moscow in August.
Farah added: "This year, my challenge was always to be in the 5k and 10k in the World Championships and then after that start training for the marathon.
"But I'm very excited and hopefully I'll be able to mix in with these guys. The field in London is so strong with the world record holder down. They're top guys."
Farah also had a light-hearted message for the 34,000 other runners in the event.
He said: "Well done to everyone who beat me. Mo Farah has been beaten by 34,000 people and that's a great performance from everyone."