East Germany gold should be given to GB, claims ex-sprinter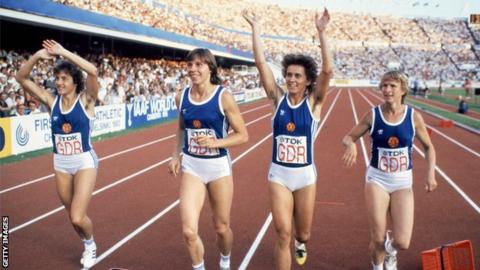 The inaugural World Athletics Championships in Helsinki in 1983 featured gold medal-winning performances by Great Britain decathlete Daley Thompson and team-mate Steve Cram in the 1500m.
But should Britain have been celebrating a third success?
Three decades on, in a special programme, BBC Radio 5 live reflects on the dominance of East Germany at the time and how the communist state came to lead the medals table in Finland.
Evidence contained in files kept by the East German secret police, the Stasi, reveals the individual programmes of drug-taking for many athletes across varying periods of time.
The files were accessed after the unification of Germany by, among others, Professor Werner Franke.
At the German Cancer Research Centre in Heidelberg, where he is now based, Franke flicked through the pages of a book written by his wife and former athlete Brigitte Berendonk in 1991.
On page 150 of "Doping" is a list of sprinters and hurdlers and the dosages given to each of them of the androgenic-anabolic steroid Oral Turinabol, as documented in the Stasi files.
Among them are Silke Gladisch, Marita Koch, Ingrid Auerswald and Marlies Goehr, the quartet who won women's 4x100m gold for East Germany in Helsinki - ahead of Britain.
In 1983, the records show they were each on a doping calendar spanning three months. In columns denoting daily and weekly amounts, Goehr and Auerswald were given slightly higher dosages than the other pair.
The British team of Joan Baptiste, Kathy Cook, Beverley Callender and Shirley Thomas were in contention for much of the race but eventually finished more than a second adrift.
The case for upgrading Britain's silver medal to gold is backed by Professor Franke and Ines Geipel, a former sprinter who might have been part of the East Germany team had she not suffered an injury before the championships. She was also part of the systematic programme.
"Of course, it wasn't just in the GDR that doping went on but if it's a documented performance and you roughly know, then I'm all for corrections," says Geipel, who helped set a world record in the sprint relay with the Jena Sporting Club in 1984 and is now president of a support group called Help for Victims of Doping.
"It's also a type of stealing. GDR people were stolen from because of the political doping but the internationals were stolen from by the GDR athletes. It goes on and on."
She also calls on the IAAF, the body that governs world athletics, to act,
"I do think the IAAF should at least react to it, should maybe honour them again, those who only got silver, or should in principle look at these lists," she said. "I simply don't know why it isn't being dealt with seriously."
Professor Franke agrees, claiming there is clear proof of what went on.
"Truth is truth," he said. "In this case, it can be documented - it's published in the book - and there are court cases behind that. So why not force the IAAF to also tell the truth. You can correct mistakes in history."
In response, Chris Turner of the IAAF said: "You have to have evidence that will hold up in a court of law. We can all have our suspicions but no court would move forward at the moment."