East Germany doping denied GB's Cook 'the habit of winning'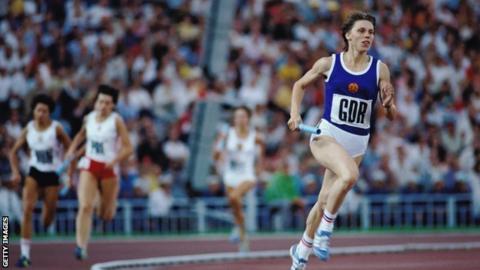 "Few competitors not using drugs had a chance of winning."
Professor Werner Franke, whose tireless digging has unearthed an anthology of shame in the former East Germany, offered his bleak assessment of women's athletics in a paper written for a Doping in Sports Symposium in 1997.
Among those chasing shadows in the 1980s was Kathy Cook, whose British records over 200m and 400m have stood firm since then.
Her 400m mark would have won gold at London 2012. Her best time at 200m would have left her just one hundredth of a second off silver. British heptathlete Jessica Ennis might have had stiff competition as the darling of the Games.
In a special programme on BBC Radio 5 live marking the 30th anniversary of the first World Athletics Championships in Helsinki, Cook, who won 200m bronze, said: "To be honest, I was very naive about the whole thing.
"I used to look at East German athletes on the warm-up track and their warm-up would be more than my hardest training sessions. It was just incredible."
The 200m final in Helsinki was won by Marita Koch, the 400m world record holder and one of the many East German women who continue to deny involvement in doping despite conclusive evidence to the contrary uncovered by Franke and his wife, the former international discus thrower Brigitte Berendonk.
Based on information gleaned from thousands of files compiled by the Stasi, the secret police and intelligence service in the former East Germany, Berendonk published a book in 1991 that charts the dosages of the steroid Oral-Turinabol given to Koch, with breakdowns into weekly and yearly figures, including the period covering the 1983 World Championships.
"There were a lot of rumours that they may have been taking drugs and some girls looked different to other girls," said Cook.
"But I used to get so nervous about the races and my performances that I honestly didn't give it much thought. The challenge of the race was enough to take all of my concentration and effort.
"Although I was running well, I was never really one of the top sportspeople. I think that if you get into the habit of winning big championships, it has a roll-on effect and perhaps I never quite got that habit. That was denied me.
"Obviously, I do look at results of races where I was just squeezed out. At the European Championships in 1982, I was just squeezed out of gold into second in the women's 200m. You look at races like that and think: 'What if?'"
On that occasion in Athens, Cook was beaten by Barbel Wockel. The investigation by Berendonk found no details of drug-taking by Wockel in 1982. But for the following two years, files show Wockel was given higher dosages than Koch. In 1984, Wockel received three times as much.
Berendonk and Franke also discovered a letter from Koch to the state pharmacy, Jenapharm, complaining that Wockel enjoyed preferential treatment because her uncle was president of the company.
Cook won another bronze at the Los Angeles Olympics in 1984, when East Germany boycotted the Games. The medals from LA and Helsinki have shaped her pragmatic outlook.
"Ever since I finished running, I've got my medals to show people, to show my own children," she said.
"They're the evidence of all the years of hard work and you show an Olympic medal to anybody and they're awe-struck, particularly with the 2012 Olympics. I've been invited into schools, people are just blown away.
"But if you've come fourth, you haven't got that medal and that must be agony."
You can listen again to the BBC Radio 5 live special, 'The Record Fakers' on the BBC iPlayer or by clicking here.