Jax Thoirs sets Scottish pole vault record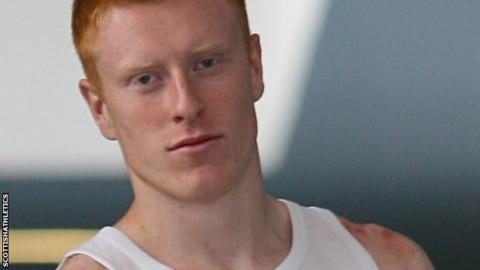 Jax Thoirs is Scotland's new pole vault record holder, as the American-based student stakes his claim for a place at the 2014 Commonwealth Games.
The 20-year-old Glaswegian cleared 5.37m while representing Washington University at an event in the USA.
The jump was above the 5.20m qualifying standard required by Scottish men for Glasgow 2014.
It also pushed Thoirs ahead in the record books of Gregor MacLean, who cleared 5.35m in 2012.
Thoirs narrowly missed out on the World Juniors last summer when he pursued the 5.20m height required for the event in Barcelona, clearing it for a Scottish Junior record after the closing date.
However, his improvement over the last few months mirrors the rising standards by Scottish athletes on both sides of the Atlantic.
"Great to hear about a new Scottish record at pole vault for Jax Thoirs," said scottishathletics director of coaching, Stephen Maguire.
"He is still a young, developing athlete but already he's setting high standards for himself and improving - and of course this is beyond the Commonwealth Games mark of 5.20m.
"I am pleased with the way the outdoor season has started. There have been some good performances already and we're not even into May.
"Indoor performances were promising by Scottish athletes but you are always looking for evidence that those results could be built on. I think we are starting to see examples of that across various disciplines - on the track, through hammer, high jump, long jump and pole vault.
"I would stress again it is early in the season. We're doing a lot of work with coaches and they are responding.
"Down the line that work will pay dividends and part of our strategy is looking beyond Glasgow 2014 to the next Commonwealth Games in the Gold Coast in 2018."