O'Rourke set for Euro Indoor bronze as Yanit faces drugs ban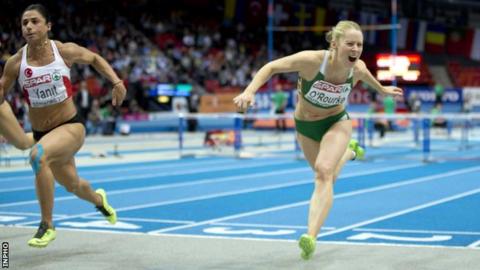 Ireland's Derval O'Rourke could be handed a bronze medal from this year's European Indoor Championships after 60m hurdles winner Turkey's Nevin Yanit was charged with a doping offence.
The IAAF said on Friday that Yanit and her compatriot London Olympics 1500m gold medal winner Asli Cakir Alptekin were both facing doping charges.
Yanit is said to have "multiple positive findings" in drugs tests.
The Turk also pipped O'Rourke for gold at the 2010 European Championships.
IAAF spokesman Nick Davies told The Associated Press that Alptekin was charged based on abnormal blood values in her biological passport.
The passport system tracks variations in an athlete's blood profile over time for signs of cheating.
Yanit, meanwhile, had "multiple positive findings following target tests carried out in-competition and out-of-competition by the IAAF," Davies said.
Both cases have been referred to the Turkish athletic federation for prosecution. Pending a verdict, both athletes are suspended and ineligible to compete.
"If they are convicted, they will be stripped of those medals,'' added Davies.
"For now though, they are just stopped from running until the legal process is completed."
Alptekin could also face a life ban for a second offence as she served a two-year suspension for doping after the 2004 world junior championships.
She finished ahead of teammate Gamze Bulut to win the gold medal in London in 4 minutes, 10.23 seconds when Maryam Yusuf Jamal of Bahrain was third and Tatyana Tomashova of Russia fourth..
If Alptekin is stripped of the victory, Bulut would stand to be upgraded to the gold with Jamal and Tomashova of Russia promoted to the other podium positions.
Yanit finished ahead of Alina Talay of Belarus at this year's European Indoors when Italy's Veronica Borsi pipped O'Rourke for the bronze.
The Turkish hurdler won the 2010 European outdoor title in Barcelona ahead of silver medallist O'Rourke and the Turk retained that crown in Helsinki last June.