Olympic champion Asli Cakir facing lifetime ban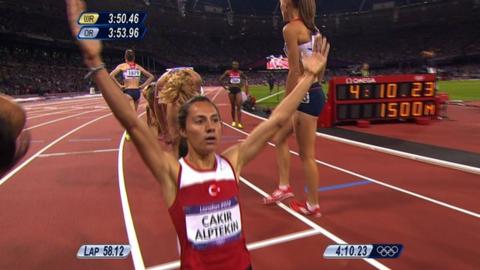 Asli Cakir, who won gold for Turkey in the women's 1500m at London 2012, faces a lifetime ban after being charged with another doping offence.
Cakir was handed a two-year ban in 2004 after a positive doping test at the World Junior Championships.
The International Association of Athletics Federations (IAAF) has now provisionally suspended her along with fellow Turkish athlete Nevin Yanit.
Double European 100m hurdles champion Yanit also faces a ban.
Cakir was charged on the basis of abnormal blood values from her biological passport.
Her compatriot Gamze Bulut, who had improved her personal best by 18 seconds in the previous year, was second in the 2012 Olympic final.
Shortly after the race, Briton's Lisa Dobriskey, who finished 10th, voiced her frustration.
"I'll probably get into trouble for saying this but I don't believe I'm competing on a level playing field," she said.