Mo Farah enjoys fifth consecutive London 10k victory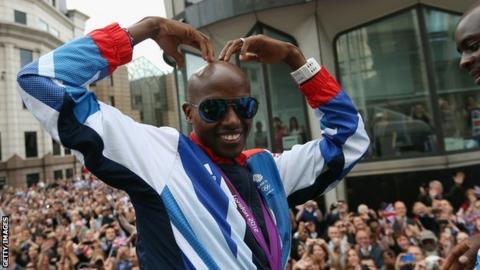 Double Olympic champion Mo Farah admits staying unbeaten is "really important" after a fifth straight win in the London 10,000 road race on Monday.
The 30-year-old won in a time of 29 minutes 13 seconds and remains unbeaten outdoors since the World Championships in Daegu nearly two years ago.
He was using it as preparation for August's Moscow World Championships.
"It is a good record to have, it is really important you continue that," Farah said.
Farah has been ever-present since the event's launch in 2008 and set two British records during his previous four wins.
He made his major world breakthrough when he won a silver medal in the 10,000m and then the gold in the 5,000m at the 2011 World Championships, and followed that up with gold medals in both distances at last year's London Olympics.
Farah finished Monday's race 52 seconds ahead of second-placed Phil Hicks, of Belgrave Harriers, and Tipton Harriers' Phil Nicholls in third.
Steph Twell, the former world junior 1,500m champion and three-time European junior cross country winner, finished the women's race in second just behind winner, Coventry's Katrina Wootton. Emily Pidgeon finished in third.
Farah said: "For my standard it was a low key race. I enjoyed the crowd and the most important thing was trying to win the race.
"I have a lot of confidence and am looking forward to it (the World Championships). You have to look after your body, the coach knows what he is doing, and just take it as a normal race.
"I feel confidence, I don't know about invincible, but you do carry that confidence with you. You go out there and think you should win.
"One big mistake we made in Daegu is we didn't know about Ibrahim Jeilan (the winner), so we have to be aware of what everyone else is doing but at the same time knowing what you have to do."
Meanwhile Farah, who ran half of April's London Marathon as part of his preparations to run the full distance in 2014, does not believe the nationality of British Athletics' next head coach is important.
Swede Peter Eriksson will leave his post in June for family reasons after almost eight months in charge.
He said: "You have to think how can we get more people running fast? How can we win medals and whatever it takes? If it means a British coach, let it be a British coach, if it means a foreign coach let it be a foreign coach.
"As long as we are on the podium and the public want to see a Brit winning a medal, it shouldn't matter who the coach is. Like myself, so many people are proud of me and I have got an American coach. He was the right coach.
"It would be nice to see a British coach but if we haven't got anyone who is as good as another foreign person, why not get in another foreign person, as long as that person represents your country and winning medals. In a way I don't know what is their fuss. "