Usain Bolt wins 100m at Cayman Invitational in photo finish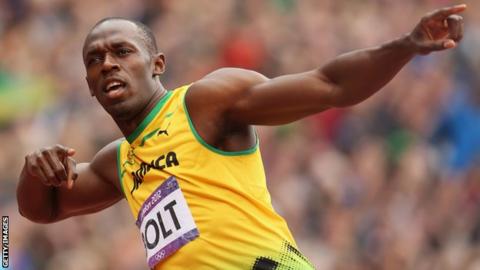 Six-time Olympic gold medallist Usain Bolt won his first 100m of the season in a photo finish, beating fellow Jamaican Kemar Bailey-Cole at the Cayman Invitational.
Bolt is carrying a hamstring problem, but said that was not to blame for his modest time of 10.09 seconds.
"It was just a bad race. It wasn't a bothering pain so I can't blame it on that," the 26-year-old said.
Bailey-Cole, one of Bolt's training partners, was given the same time.
Bolt, the triple Olympic champion from London 2012, added: "I felt it [hamstring injury] slightly. I just have to go back and figure out with my coach what went wrong."
Antigua's Daniel Bailey finished third in the Cayman Islands with a time of 10.23 secs.
America's Carmelita Jeter won the women's 100m in a world leading 10.95 secs.