Jason Smyth disqualified at Florida meeting after false start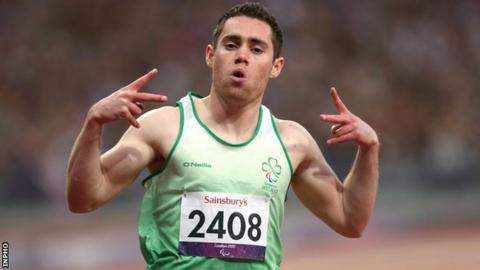 Jason Smyth endured a frustrating opening to his summer outdoor campaign as he was disqualified after false starting at a meeting in Florida.
Competing at the Clermont track where he is based for much of the year, Smyth clocked a 100 metres time of 10.36 in the heats before his false start in the final an hour later.
Smyth set his personal best of 10.22 at the Clermont track two years ago.
The four-time Paralympic champion will have further races in the coming weeks.
"10.36 in the heats was OK but then I had a disaster," said Smyth on Twitter after Saturday's meeting.
"False started for the first time. (But) Onwards and upwards to Orlando next weekend."
Conditions were said to be excellent at the Clermont meeting and Smyth had a perfect following wind of two metres per second in his heat.
Smyth's three fastest 100m times have been run at his 'home' venue and he ran his personal best at the same meeting two years ago.
The Northern Irishman's principal target this summer is to qualify for the World Championships in August.
To do that, he will have to better his personal best as the Moscow championships B standard is 10.21 with the A mark 10.15.
In recent years, Athletics Ireland have selected athletes with B standards for World Championships if no performer has achieved A marks.
Smyth's 10.22 personal best in 2011 earned him a place at that year's World Championships in Daegu while his 2012 best of 10.24 was .06secs outside the London Olympics standard.
In addition to his able-bodied competition this summer, Smyth will also compete in the Paralympic World Championships in Lyon in July.
The county Derryman expressed frustration last month after the organisers of this year's London Anniversary Games opted not to include his T13 sprint category in the evening of Paralympic action during the meeting.