Head coach Peter Eriksson leaves British Athletics role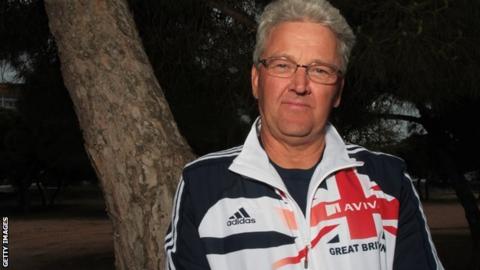 British Athletics head coach Peter Eriksson is to leave his post in June for family reasons, after almost eight months in charge.
The 60-year-old took over the role from Charles Van Commenee after London 2012.
He had signed a five-year contract to be in charge of the programme until the 2017 World Championships in London.
Eriksson, who was born in Sweden but moved to Canada in 1987, was previously in charge of the British Paralympic athletics programme.
"Words cannot describe how disappointed I am to take this step," he said. "There is no bigger job in athletics anywhere in the world. At present I have no plans, but accept that if I am to take any other job in sport it will be a step down.
"Athletics in Great Britain receives the best possible support through the National Lottery, and that, coupled with the performance structure here means it is every coach's dream to hold this position.
"However no job is more important than family and children, and personal circumstances mean that mine need me to be back in Canada."
The former speed skater-turned wheelchair racing coach changed the GB Paralympic squad's fortunes from winning two golds out of a medal haul of 17 in Beijing 2008, to 11 golds out of 29 medals at London 2012.
After the Paralympics, he was named as head coach for the Olympic squad and has overseen a period of change since.
In March's European Indoor Championships in Sweden, his first major international in charge of the Olympic squad, Britain won eight medals, including four golds.
Eriksson will continue in his position until the end of June, leading the Great Britain & Northern Ireland team to the European Team Championships in Gateshead on 22 and 23 June.
Performance director Neil Black will take over the head coach duties for the remainder of the summer, including the World Championships in Moscow from 10-18 August.
"This is a big disappointment but it could not have been foreseen six months ago, and Peter has been open with us on the personal challenges he faces," said Black.
"Working with Peter we have put together a team of elite coaches leading each of the event groups and they will able to help me cover the head coach duties for the summer with minimal disruption.
"But for now we are looking forward to a strong team performance in Gateshead and I look forward to working alongside Peter towards this goal."
Eriksson also indicated that he would be looking for a new role in Canada.
"With four daughters, I have to work, but I will first look after things here and hen see what is available," he added.
British Athletics chief executive Niels de Vos also said that the association would be looking for a long-term appointment to take the squad through to the 2017 World Championship and that the structure of two head coaches (Olympic and Paralympic) under the performance director would be retained.
"We haven't started the recruitment process yet but the short-term focus is on Moscow and then we will look for the right appointment for the four-year cycle," he said.