Jason Smyth's hopes of a fast 100m outing dashed in Florida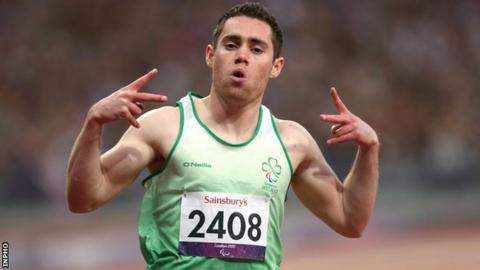 Jason Smyth's hopes of a fast 100 metres outing were dashed as he finished fifth in 10.67 seconds at a meeting in Orlando.
The athletes were running into a wind of 2 metres per second so times were slow with Jamaican Ramone McKenzie winning in 10.44 seconds.
McKenzie has a personal best of 10.10.
Smyth was .45secs outside his personal best and as he also finished behind Keston Bledman (10.51), Rodney Greene (10.64) and Gerard Phiri (10.66).
Trinidadian Bledman has a lifetime best of 9.86 with Zambian Phiri a 10.06 runner at his best and Bahamian Greene having a personal best of 10.25.
Smyth was disqualified at a meeting last Saturday following a false start after running an earlier time of 10.36.
"Not such a good day at the start. Not me this time though," said Smyth on Twitter after the race.
"People jittering in set affected everyone. It's going to be third time lucky."
The Northern Irishman's principal target this summer is to qualify for the World Championships in Moscow as he has already booked a place at the Paralympics World Championships in France.
To do that, the four-time Paralympic gold medallist will have to better his personal best as the Moscow championships B standard is 10.21 with the A mark 10.15.
In recent years, Athletics Ireland have selected athletes with B standards for World Championships if no performer has achieved the A mark.
Smyth's 10.22 personal best in 2011 earned him a place at that year's World Championships in Daegu while his 2012 best of 10.24 was .06secs outside the London Olympics standard.
The county Derryman expressed frustration last month after the organisers of this year's London Anniversary Games opted not to include his T13 sprint category in the evening of Paralympic action during the meeting.
Meanwhile, Smyth's fellow London Paralympics double gold winner Michael McKillop set a new 1500m personal best at the British Milers Club meeting in Solihull on Saturday.
McKillop's time of 3:51.74 cut .45secs off his existing best.
The Glengormley man finished fourth in the C 1500m race where Ballymena & Antrim's Gareth Hill took second in 3:51.26.
"Perfect star to my track season," McKillop said on Twitter after Saturday's race.
Annadale Striders athlete Eddie McGinley clocked a time of 14:21.69 over 5000m at the Solihull meeting.
On Sunday meanwhile, Robert Heffernan finished in ninth place in the 20K event at the European Cup of Race Walking event in Slovakia.
Heffernan's time of 1:23.27 in soaring temperatures left him a minute and 46 seconds behind winner Russia's Denis Strelkov.