Mo Farah extends 5,000m winning streak in California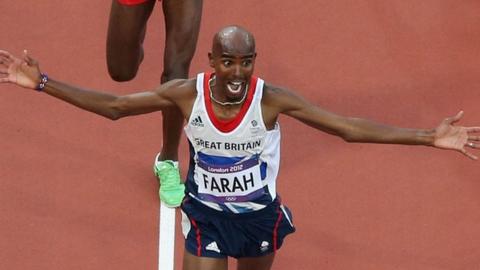 Double Olympic champion Mo Farah won his first 5,000m race since London 2012 in California on Friday.
The Briton, 30, won the event at the "Oxy" meeting, staged in the Los Angeles neighbourhood of Eagle Rock, in 13 minutes and 15.68 seconds.
It extends Farah's winning streak in 5,000m finals to 11 races, and he last lost when placing fifth at Zurich 2010.
He plans to run the 5,000m and 10,000m double at the World Championships in Moscow in August.
Farah was paced by his training partner Galen Rupp on Friday, and while his time was slightly slower than his victory in the corresponding race last year, it was the fastest by a European so far in 2013.
Britain's Rory Fraser was 10th in 13:36.47.
Farah's 5,000m winning streak:
1. 13:10.60 - Birmingham indoor (19 February, 2011)
2. 13:06.14 - Birmingham (10 July, 2011)
3. 12:53.11 - Monaco (22 July, 2011)
4. 14:00.72 - UK Championships (31 July, 2011)
5. 13:23.36 - World Championships (4 September, 2011)
6. 13:12.87 - Eagle Rock (18 May, 2012)
7. 12:56.98 - Eugene (2 June, 2012)
8. 13:29.91 - European Championships (27 June, 2012)
9. 13:06.04 - Crystal Palace (13 July, 2012)
10. 13:41.66 - Olympic Games (11 August, 2012)
11. 13:15.68 - Eagle Rock (17 May, 2013)