Caster Semenya: South African has funding withdrawn for Rio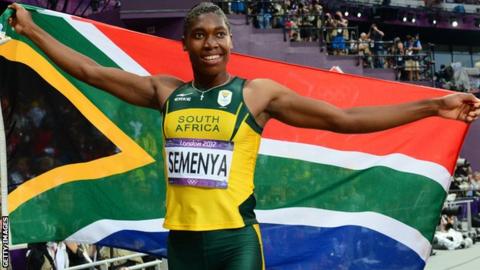 Former world 800m champion Caster Semenya has had her funding withdrawn ahead of the 2016 Olympic Games in Rio.
The 22-year-old, who won silver at London 2012, is regarded as South Africa's best hope for a track title.
However, it is unclear if she will run at this year's World Championships in Moscow because of injury.
"There is no point spending money on athletes that are not training," said South African Sports Confederation and Olympic Committee chief Tubby Reddy.
Athletics South Africa president James Evans criticised the decision.
He said: "I am [surprised] because, if she is injured, that is when an athlete needs funding.
"She is a class athlete who earns a lot of money in appearance fees on the European circuit so if she is injured, she needs the support rather than having it withdrawn."
Semenya, who won gold at the 2009 World Championships, was forced to miss 11 months of competition when athletics' governing body, the IAAF, investigated doubts over her gender following that world title triumph in Berlin.
The middle-distance runner was cleared to return to the track in July 2010 and won silver at the 2011 World Championships in South Korea, despite a back problem.
Paralympian Oscar Pistorius, 26, has also been omitted from the funding programme.
The double-amputee runner, a six-time Paralympic champion, has decided to stay away from competition for the rest of the year while on bail after being charged with murder following the shooting of his girlfriend Reeva Steenkamp in February.