Greg Rutherford: I could be one of fastest-ever GB sprinters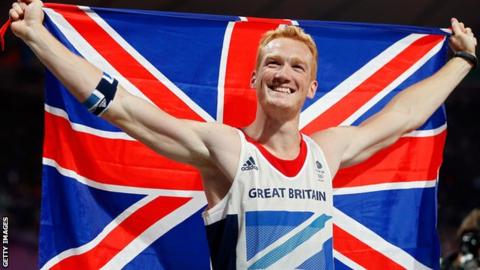 Great CityGames Manchester & Great Manchester Run (10km)
Venue:

Manchester city centre

Date:

Saturday 25 & Sunday 26 May

Coverage:

Live on Saturday from 13:00 BST on BBC One & live coverage of the 10km race on Sunday from 10:00 on BBC Two. Live streams available to watch on BBC Sport website, mobiles and the BBC Sport app
Olympic long jump champion Greg Rutherford believes he could be among the fastest British sprinters ever if he switched to the 100m.
Rutherford's main target for 2013 is the long jump at the World Championships in Moscow in August.
But the 26-year-old is also determined to test himself on the track.
"I think I could be one of the fastest sprinters in British history if I trained exclusively for the 100m," Rutherford told BBC Sport.
"I'm probably not going to get the chance to do that as ultimately I have to stay a long jumper because that's what I do.
"But I think I can run quicker than a few that are around now and possibly cause an upset here and there."
After winning gold at the London Olympics, Rutherford, who is competing at the Great CityGames Manchester on Saturday, revealed his desire to run again.
Rutherford, whose personal best over 100m, set at Gateshead in 2010, is 10.26 seconds, hoped to race earlier this year in the United States.
Britain's current best is 18-year-old Adam Gemili, whose quickest time is 10.05 seconds.
Like Gemili, Britons Dwain Chambers and James Dasaolu did not make it beyond the semi-finals at last year's Games.
Linford Christie, the 1992 100m Olympic champion, is Britain's fastest ever sprinter, with a time of 9.87 seconds.
Rutherford added: "I'm looking to race relatively soon. I said that post-Games I was going to run and the problem has been that I haven't had the right set-up.
"I went to run a few weeks ago in America but I'd jumped a couple of days before and I was still sore so I wouldn't have done myself justice so I pulled out.
"I'm very keen to run because I genuinely think I can cause an upset in the 100m. As a junior I featured regularly in 100m finals and even made the senior AAAs final in 2005 as a junior and a long jumper.
"I like to think I could do well."
Rutherford came third in his first Diamond League meeting of the season in Shanghai at the weekend.
He has dismissed any suggestions that he may not be as motivated as he was for his home Olympics last year.
He said: "Now I just feel incredibly relaxed about going out there and competing which I actually think is better.
"Whether I'm in better shape I don't know but because I'm going to be so relaxed this year it gives me an opportunity to jump much better.
"At Shanghai and in Melbourne, I probably wasn't in the greatest shape but felt really relaxed and was able to jump well so if on a bad day I'm able to jump 8.10 then that means on a good day I'll be jumping a hell of a lot further."
In China, Rutherford jumped in the colours of the Milton Keynes Athletics Club as an indication of his frustration at a lack of sponsorship in the wake of London 2012.
He added: "Sponsorship seemed to dry up and disappear post-Games which was interesting because you win an Olympic title and everyone expects you to be a millionaire, which is very untrue in my case anyway, and to have endorsements thrown at you and that hasn't happened.
"I was sponsored leading up the Games and it was fine and then after that people chose not to renew or what they offered me was bad so I decided to jump in my Milton Keynes vest to show loyalty to people that have backed me."
BBC Sport Q and A with Greg Rutherford
Michael McVeigh: World records improve over time. What makes Mike Powell's record so difficult to better, or even approach? Has technique changed?
Greg: "For whatever reason people aren't jumping as far as people did previously. An interesting thing back then is that there were a few people jumping those distances and when you have multiple people getting better, people around them come up with that.
"Then we had a drop off for quite a long time when they retired and things changed within the system. Now people aren't jumping as far and that's not for want of trying and training methods and facilities have improved.
"What Mike Powell did was incredible and Carl [Lewis] in the same competition.
"I expect someone in the next few years to come through and jump close to it. I'm always looking to improve and others out there are looking to improve so who is to say that a couple of us won't come through and start jumping much further than we are now? But as it stands people aren't jumping as far, for whatever reason."
Carl Neville: If all conditions were perfect, and you were fit, how far do you realistically think you can jump?
Greg: "In 2009 I was in the indoor competition when German jumper Sebastian Bayer jumped a ridiculous 8.72. He got it right on the day and nailed every position.
"I would consider myself to be a better jumper than him but he has jumped considerably further than I have because he got it all right.
"To put a number on things limits you but I think there are multiple people that if everything went right you could break the world record.
"I want to start to be a 28 foot plus jumper, which is 8.54 plus, and I want to be doing that regularly and from that really big things can come out."
David Lobley: Were you happy to be part of Super Saturday or would you prefer to have won on another night by yourself?
Greg: "I was very happy to be involved in Super Saturday because if I hadn't won it on that day it would have been forgotten pretty quickly.
"Everybody mentions Super Saturday whenever they speak to me and Jess [Ennis] and Mo [Farah] are two of our greatest ever athletes with a great profile going into it and for me to be sandwiched between two legends can only do me favours because I can live off the back of that for the rest of my life.
"It's fantastic to share it with two good friends and for it to be remembered as one of the greatest nights in sporting history. I still don't put myself in their calibre so to be involved has done me a massive favour."
Yuones Laghzali: Have you found it difficult to motivate yourself since London 2012? Let's be honest, you'll never ever top that moment.
Greg: "You're right because I never will top that moment but life goes on and I've got more years in the bank hopefully.
"For me it will never be as good but I've got lots more I want to achieve. Motivation is interesting because everyone just assumes that when you perform at the highest level and win an Olympic gold medal, that's it, you're done.
"But I've got so many more years left in the sport that I don't want it to be done for me.
"I took the conscious decision to take three or four months off after the Games to involve myself in everything that comes with winning an Olympics.
"But by December and January I was so ready to be an athlete again and that's the reason I went abroad for four months, so that I could train and I'm not lacking any motivation or desire. Everything is there if not stronger and I want to repeat what I did last year over the coming years."