Guernsey's top athletes will not compete at 2013 Island Games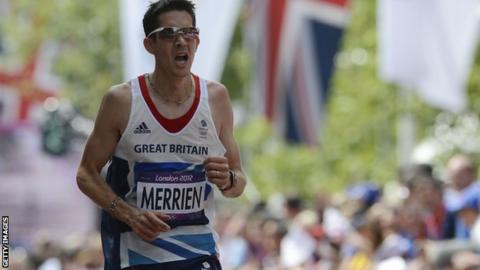 Five of Guernsey's leading athletes will not take part in this summer's Island Games in Bermuda.
former Great Britain hurdler Dale Garland, and will not run.
Louise Perrio, who won 10,000m gold two years ago, is also not taking part.
Perrio, Robilliard and Druce are all focusing on the British Championships which coincide with the Island Games.
Garland, who holds the Island Games 400m and 110m hurdles records, is unavailable after becoming a father, while 2011 half-marathon gold-medallist Merrien, who has a hip injury, is unlikely to travel due to his programme as he bids for a place at this year's World Championships.
"As much as he Lee loves the Island Games and wants to represent Guernsey, with the injury and his main race programme he wasn't sure it could work," Guernsey team manager Steve Allaway told BBC South West Sport.
Seven of the 17-strong squad will make their Island Games debuts, and despite not having their leading athletes, Allaway says the games are a chance for some of the island's future talent to get experience of a major meet.
"We're still expecting some good results, although we probably won't be top of the medal table this year," he said.
"But we're not looking at the medals as much, but the potential within that squad.
"By the next games in Jersey these athletes will be solid senior athletes."
Among the youngsters who will be making their debuts are 15-year-old Katie Rowe, who is ranked seventh for the Under 17 age group in Great Britain at 1500m
"She's running incredibly well at the moment. She's within the top 10 in her age group and has a very bright future," said Allaway.
"For her it's a first Games so it'll be interesting to see how she does, but she's regularly competing at a higher level against older athletes and holding her own."
Allaway says there are also high hopes for 400m runner Sam Wallbridge and throwers Zoe Fitch and Ali Higgins.
"They're throwing excellently and lady throwers have always been a weakness with the Guernsey squad. On the day I believe Zoe could even medal," he said.
The Island Games take place from 13-19 July.
Guernsey athletics squad for Bermuda 2013: Josh Allaway,Glenn Etherington, Hywel Robinson, James Sermon, Sam Wallbridge, Michael Batiste, Natalie Whitty, Simon Murphy, Ben Wilen, Mike Wilesmith, Steve Dawes, Emma Le Conte, Sarah Mercier, Tom Swain, Katie Rowe, Ali Higgins, Zoe Fitch.