Paul Pollock selected for World Championship marathon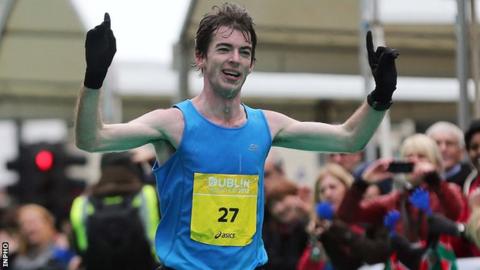 Paul Pollock has spoken of his delight after being selected by Athletics Ireland to run the marathon at this year's World Championships in Moscow.
Pollock has earned selection after bettering the B standard of two hours and 17 minutes when he clocked 2:16.30 at last year's Dublin Marathon.
The Holywood athlete was informed of his selection by email on Tuesday.
"Has there ever been a better email to return home to after a shift of work?" Pollock said on Twitter.
The Athletics Ireland email read:"Dear Mr Pollock I am pleased to advise that you have been selected by Athletics Ireland to compete in the 2013 World Championships to be held in Moscow, Russia".
Pollock's Dublin run was his first marathon and he was leading Irishman which earned him the Irish title.
The Annadale Strider also competed in last month's London Marathon where he clocked another creditable time of 2:17.10 which was inside the Commonwealth Games qualifying mark of 2:18.00.
In both his opening two marathons, medical doctor Pollock has gone out exceptionally fast with his 10K mark of 30:54 in London inside 2:10 pace before he reached halfway in 1:06.13.
Pollock was unable to maintain that pace over the second half but still showed commendable guts to hang on to post a decent time which left him as the second best British and Irish finisher behind Scotland's Derek Hawkins, who clocked 2:16.51.