Nathan Douglas targets 2013 World Championships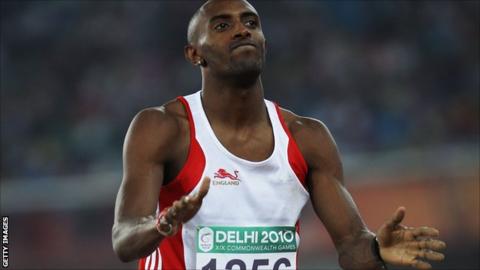 British triple jumper Nathan Douglas says he hopes to end two years of injury misery by qualifying for August's World Championships in Moscow.
Oxford-born Douglas, who is a former European silver medallist, missed out on the 2012 Olympics through injury.
He tore ankle ligaments in a training accident in June 2011 but marked his return by jumping 16.53 metres at the Bedford International Games.
"It's really nice to be back," Douglas, 31, told BBC Radio Oxford.
Douglas sustained the injury by putting his foot through a plyometric box - a piece of equipment used for jump training.
He admitted to being heartbroken at missing the London Games but has now set his sights on jumping in Moscow and returning to the Great Britain squad,
"I've had a whole mix of emotions," Douglas added.
"There are a lot of nerves around injuries so I need to find my feet and get on with it.
"I'm going to be a bit rusty. I just need to get my groove back together and I'll be alright.
"I had two aims; try and jump around 16.50 and walk away healthy, and I achieved both of those aims."
Douglas admitted he came close to quitting the sport because of continuous injury problems, but a combination of family support and personal strength helped him return to jumping.
"I've always known I've had a strong mentality, but 2012 was the hardest year of my life and I was pushed a lot further then I thought I would," he said.
"But I came through. My family were my rock and when I was out there competing (at the weekend) it was to make them proud and put a smile on their face,
"The knee jerk reaction was to bury my head and pretend it (London 2012) wasn't happening but I've been to two Olympic Games and I know how special they are so with it being in my home country I felt I had to experience it.
"I had tickets, it was painful but I went to experience it. It was hard, wishing I was down there, it would have been the pinnacle of my career, but you have to realise life goes on.
"Down the road I hope 2017 (World Athletics Championships) will be my opportunity to compete at a major championship in my home country."
Before that though is the 2013 championships in Russia and Douglas is determined to give it his best shot.
"That is the aim this year," he said.
"The World Championships is the biggest thing this year and is obviously the second biggest thing behind an Olympic Games.
"As much as I am taking things steady, obviously the ultimate aim is to get to the World Championships. That is what is driving me."