Mo Farah must retain hunger to stay on top, says Steve Cram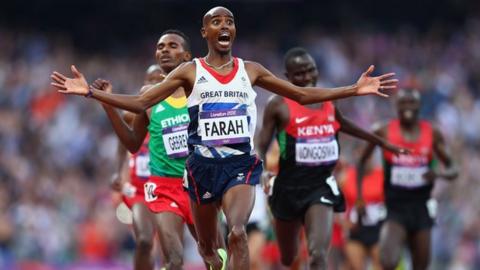 Diamond League: Eugene
Venue:

Hayward Field; Eugene, USA

Date:

Friday 31 May-Saturday 1 June

Coverage:

Watch live on red button, BBC Sport website, Connected TV, mobiles and the BBC Sport app on Saturday from 20:15-2300 BST
Double Olympic champion Mo Farah faces his first real test of the year when he competes against a stellar field in the 5,000m at the Diamond League in Eugene, Oregon, on Saturday. In his latest column for BBC Sport, former world champion Steve Cram discusses how the Briton should prepare for August's World Championships in Moscow in order to continue his recent domination of long-distance running.
On one level at least, this year will undoubtedly be a bit more difficult for Mo Farah. When you go through everything he went through last summer, winning two gold medals in London, it takes a while to sink in.
He is now a world star and, in the UK at least, a massive celebrity. So he needs to be wary because that changes your life.
The trick is to make sure those life changes have as little impact on your training regime as possible. It's impossible for it not to have some impact, but he has looked quite focused and gone back into his routine.
Part of his routine has involved going training in Kenya and he's continued to do that.
Obviously, there was that slightly unusual scenario where he ran half of the London Marathon but he's continued to run some road races and competed at a track meet in America last week, which is what he did last year, followed by the annual 10k road race through central London.
Mo is trying to follow a pattern that has worked for him in the past, which is what a lot of athletes try to do. If you've got a successful formula, don't change it.
He hasn't asked me outright about how to cope with the attention - he's got a good manager in Ricky Simms, who also manages Usain Bolt, and the two of them have managed to work through it all pretty well so far - but we've had various conversations over the past couple of years.
Training in Utah, nobody knows who he is, so he's been able to go to the supermarket, go to the cinema and just relax and get on with training.
On the other hand, he has admitted he's noticed a big difference in how people react to him when he's in Kenya. He's now incredibly well-known there, and people want to meet him and get his autograph.
But one of the reasons you become an athlete is to become successful, so he's dealing with it. And it's a gradual process. Success hasn't happened to Mo overnight and by going for two golds in London he put more pressure on himself than he's ever going to do during the rest of his career.
From now on, Mo is the one everybody else will be aiming for. He should put himself in the position of the other athletes, and remind himself what he was thinking when he wasn't the target. He needs to maintain that hunger.
It's likely to be a fast race in Eugene, but the time will be less important than actually winning it.
Mo will be up against a lot of big rivals who could be around at the World Championships in Moscow later in the year, including two Olympic long-distance medallists from last summer, so it will give him a chance to measure himself against them and he won't want to give them any encouragement.
Diamond League Brits
Laura Weightman will be competing in the 1500m. I coach Laura and she posted the fourth-fastest time in the world this year in Manchester this month. Running in Eugene is a good opportunity for her and fellow Briton Hannah England.
Perri Shakes-Drayton will also be in Oregon, competing against a pretty good 400m hurdles field that includes the likes of Jamaica's Kaliese Spencer.
I saw her running in the Great CityGames in Manchester on Saturday and she gave a reasonable performance.
Perri looks in fantastic shape, has run a personal best outdoors already and I think she will have a fantastic year.
It's also worth keeping an eye on the men's high jump as Robbie Grabarz is competing. Robbie's like Mo to some extent, in that he's had a lot to contend with since winning bronze at the Olympics, but he will probably be in contention in Moscow.