Usain Bolt: Justin Gatlin defeat not a worry for Jamaican sprinter
Last updated on .From the section Athletics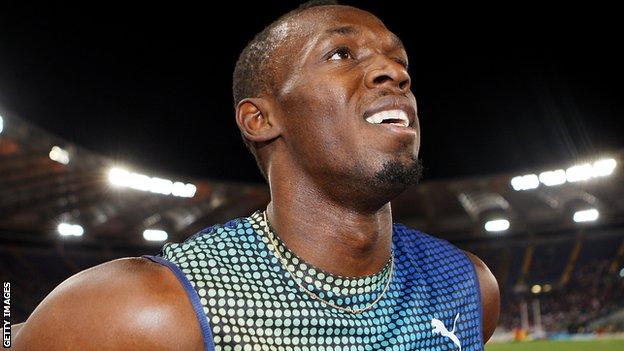 Six-time Olympic champion Usain Bolt says he has lost some motivation but insists he is not worried ahead of August's World Championships in Moscow.
"I would say my determination is not as much as it used to be," he said.
"You have to try to find things to motivate you and to push yourself harder."
Bolt suffered a hamstring injury last month that hampered him in his opening race of the season in the Cayman Islands, where he could only manage a time of 10.09 seconds.
Despite a good start on Thursday night, world record holder Bolt was unable to pull away from the field, giving 2004 Olympic champion Gatlin the chance to edge a thrilling race in 9.94 seconds, one-hundredth of a second ahead of his rival.
Bolt won three Olympic gold medals at London 2012, winning the 100m and 200m, and anchoring Jamaica to 4x100m relay victory. That took his gold medal haul to six over two Olympics.
He said: "Starting the season was the roughest part for me - trying to drive myself. I am taking my time and working my way there.
"Every season it goes right back to ground zero.
"It has been really crazy since the Olympics. It has been hard for me to get everything together because there are more demands, it is tough."
It was Bolt's first major international loss since his false-start disqualification at the 2011 World Championships in South Korea.
Bolt came second to Yohan Blake in the 100m and 200m at the Jamaican Olympic trials last July but went on to London 2012 success in both events. He was also beaten by Tyson Gay in August 2010 in Stockholm.
Gatlin, 31, maintained his unbeaten start to the season over 100m and recorded his third Diamond League success after victories in Doha and Eugene.
He said: "It's an honour to be able to race Bolt and compete against him these last couple of years - he's an inspiration for the sport.
"He's a legend, he's done great things, I just want to go out there and fight to the end."
The American has received criticism after serving a two-year doping ban in 2001 and a four year-ban for another failed test in 2006.
Although he did not mention Gatlin by name, minutes after the race Britain's 2012 Olympic champion long jumper Greg Rutherford tweeted: "An athlete I will never clap, congratulate or even smile at won a race tonight. Shouldn't even be there."
British Olympic gold medallist Darren Campbell also criticised Gatlin following his victory.
He said: "It's very uncomfortable when you think Justin Gatlin has been caught for drugs twice and here he is beating the great Usain Bolt.
"That is why Usain Bolt has been so important for our sport. He has shown that what athletes do sometimes is super-human. We are watching people perform super-human things and we hate the fact when people have cheated to do that."