European Team Championships: GB hope home advantage counts
Last updated on .From the section Athletics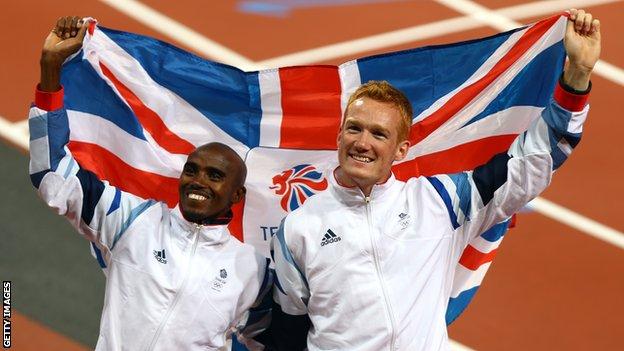 Great Britain's athletes are hoping home advantage will propel them to a first European Team Championship title since 2008 in Gateshead this weekend.
Perri Shakes-Drayton captains a side that features London Olympic champions Mo Farah and Greg Rutherford, and world champion Dai Greene.
Head coach Peter Eriksson said: "The goal is to be in the top two but, of course, I would prefer to win.
"I think we have a better chance because we are at home."
The Great Britain and Northern Ireland team finished fourth the last time the competition was staged, in Stockholm in 2011, with the men's team's victory in 2008 coming in its previous guise of the Europa Cup.
"We have most of our top athletes here," Eriksson added. "Unfortunately we have a few injuries, but I definitely think we can do better than in previous years."
The Swede made Shakes-Drayton captain following an excellent indoor season, in which she won the European 400m and 4x400m relay titles in Gothenburg.
"I asked Peter, 'why did you choose me?' and he said, 'because you had a big turnaround from the disappointment of the Olympics'," the 24-year-old told BBC Sport.
"He said, 'you came out really strong for the indoor season and came home with two gold medals' so I think he's seen it as an inspiration."
Shakes-Drayton will compete in the 400m and 4x400m relay in Gateshead but wants to run in the 400m hurdles at the World Championships in Moscow in August.
"I have unfinished business in the hurdles," she added, referring to her failure to reach the final at London 2012 despite running the second fastest time in the world of the year in the last track meet before the Olympics.
With Shakes-Drayton running in the 400m, there is only a place in the 4x400m relay team for Christine Ohuruogu, 29, who won Olympic gold in 2008 and the 2009 world title before taking silver in London.
Like his team captain, Greene is also looking to bounce back from a disappointing Olympics, where he finished fourth in the men's 400m hurdles final.
"I have turned a corner in training and my times are coming down, which is a positive sign, and I feel fully fit," the 27-year-old told BBC Sport.
"I always like to think I can better the British record [Kriss Akabusi's 47.82 seconds]. I've got a better base this year and hopefully can get my times into low 48s, high 47s.
"But my job this weekend is to get full points and top the rankings. I should win my race and it's about getting full points for the team - you don't get any extra points for finishing further in front."
Hannah England was selected ahead of Laura Weightman and Lisa Dobriskey for the 1,500m.
The 2011 world silver medallist, 26, told BBC Sport: "Physically I'm in my best shape ever. Laura, Lisa and I have already run A qualifying times for the worlds so I'm chuffed to be the one that gets to represent GB here.
"This is a good opportunity to run a tactical championship-style race and that's great in the build-up to the worlds."
Double Olympic champion Farah, 30, will run in the 5,000m as he steps up his preparations to defend his world title over that distance in Moscow in August, while fellow London 2012 gold medallist Rutherford, 26, lines up in the long jump.
Men's team:
100m: Richard Kilty, 200m: Danny Talbot, 400m: Nigel Levine, 800m: Andrew Osagie, 1500m: Charlie Grice, 3,000m: David Bishop, 5,000m: Mo Farah, 110m hurdles: William Sharman, 400m hurdles: Dai Greene, 3,000m steeplechase: Rob Mullett, High Jump: Tom Parsons, Long Jump: Greg Rutherford, Triple Jump: Nathan Douglas, Pole Vault: Andrew Sutcliffe, Shot Put: Zane Duquemin, Discus: Brett Morse, Hammer: Mark Dry, Javelin: Lee Doran, 4x100m: Harry Aikines-Aryeetey, Dwain Chambers, James Dasaolu, James Ellington, Joel Fearon, Adam Gemili, Kilty, Danny Talbot, 4x400m: Michael Bingham, Richard Buck, Nigel Levine, Conrad Williams, Rhys Williams
Women's team:
100m: Asha Philip, 200m: Anyika Onuora, 400m: Perri Shakes Drayton, 800m: Jessica Judd, 1500m: Hannah England, 3,000m: Laura Weightman, 5,000m: Emelia Gorecka, 100m hurdles: Tiffany Porter, 400m hurdles: Eilidh Child, 3,000m steeplechase: Lennie Waite, High Jump: Isobel Pooley, Long Jump: Shara Proctor, Triple Jump: Yamile Aldama, Pole Vault: Holly Bleasdale, Shot Put: Sophie McKinna, Discus: Jade Lally, Hammer: Sophie Hitchon, Javelin: Izzy Jeff, 4x100m: Annabelle Lewis, Anyika Onuora, Asha Philip, Tiffany Porter, Bianca Williams; 4x400m: Meghan Beesley, Eilidh Child, Shana Cox, Kirsten McAslan, Christine Ohuruogu, Victoria Ohuruogu.