Tyson Gay runs fastest 200m time of 2013 at United States trials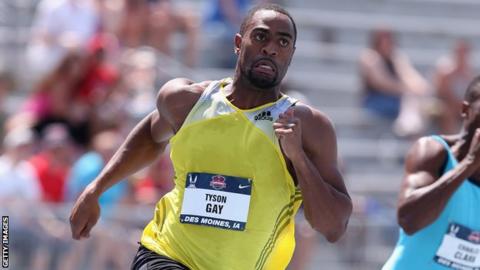 Tyson Gay ran the fastest 200m of 2013 with a time of 19.74 seconds at the United States World Championships trials in Iowa.
Gay, the 2007 world champion, will now race the world's fastest man Usain Bolt over both 100m and 200m at the World Championships in August in Moscow.
The 30-year-old beat Isiah Young and Curtis Mitchell, who was third.
The win comes two days after Gay ran the fastest 100m time of the year, clocking 9.75 seconds.
Jamaican Bolt has a bye in the 200m and sealed his place for the World Championships 100m with a win in Friday's trial.
Kimberlyn Duncan shocked Olympic champion Allyson Felix with a win in the women's 200m in Iowa.