Lynsey Sharp considered quitting over drugs use in athletics

By Rhona McLeod
BBC Scotland
Last updated on .From the section Athletics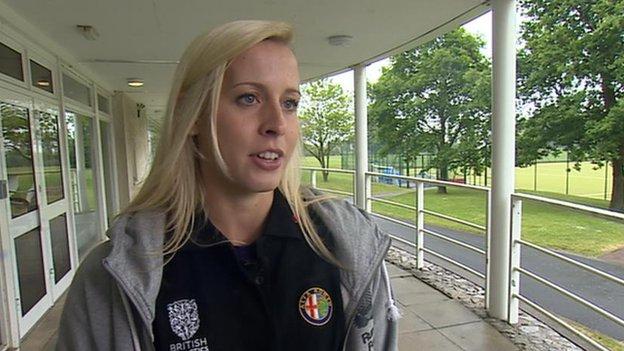 European 800m champion Lynsey Sharp says she considered quitting athletics because of drugs use in the sport.
The Scot was after the winner of last year's race, Yelena Arzhakova, was stripped of the title for using a banned substance.
"I have thought 'what's the point in doing this if this is what I'm up against?'," admitted Sharp, 22.
"It's a bit depressing that it's still going on. You hope there are way more clean people than there are doping."
Sharp, a law graduate from Edinburgh, finished 2.01 seconds behind her Russian rival almost exactly a year ago.
At the end of April, Arzhakova was banned for two years for having an "abnormal haemoglobin profile in her biological passport".
But it took until the beginning of June for Sharp to be confirmed as European champion.
She was in America when her mother called her to tell her the news, prompting her to burst into tears.
"I couldn't process it all," she told BBC Scotland.
"I don't know why I was crying - whether I was annoyed that she ruined the moment for me or happy that I had been upgraded, or sad that she had been cheating.
"It was probably confusion more than anything.
"I've been surprised how many people have been caught since London. I think WADA (the World Anti-Doping Agency) are doing a great job.
"It definitely tainted the moment but I still think my silver was a huge achievement in itself.
"I hope I get to keep the silver medal because it was the one I got on the day. It's really special to me; it's engraved."
Sharp's immediate target is to recover from a foot injury, on which she is receiving treatment at Loughborough.
Thereafter, the focus for the Olympic semi-finalist is competing at Hampden in Glasgow's Commonwealth Games next summer.
She said: "I know I'm in really good shape, it's just being able to get out and run on it (her foot).
"London was unbelievable - the crowd, the noise. I've only watched the video of my semi-final once and I heard the crowd when I was introduced and it was unbelievable.
"It comes with a huge pressure to do a good job and Glasgow is going to be the same.
"I'd like to go and see Hampden once the track is down. I still see it as a football stadium.
"I hear the track is going to be raised and I'm keen to see how it's going to look."
Sharp's team-mate and Sharp is keen to be part of the quartet, with Lee McConnell, Kirsten McAlsan the likely other candidates.
"I need to get a few more 400m's in me. I'd love to get in that team but it's going to be tough," she said.
"With Eilidh alone we've got a huge start so it's just everyone raising their game and getting their times down and putting a good team together, which I certainly think is possible."